Celebrating Father's Day in Arab States region: A Palestinian dad tells the journey of his change towards engaged fatherhood and gender equality
Date:
As a young father from the Jabalia refugee camp in the northern Gaza Strip in Gaza, Muhammad Kaddass used to live adhering to conventional gender roles, namely working, providing for his family, and trying to be a good husband the way he knew how. Being a family man never meant for him that he would do domestic work or participate more actively in the upbringing of his children. Roles were clear, he works outside the house and brings in income, and his wife takes care of the children and household responsibilities.
When Muhammad was approached to participate in some of the discussions around fatherhood and positive masculinities organized by the UN Women's regional programme 'Men and Women for Gender Equality'(MWGE) – funded by Sweden, he was hesitant and not very receptive towards the idea of taking his share of household responsibilities due to his preconceived ideas about what men´s roles are. He was however hooked by the compelling argument about love, affection, and a healthy happy family.
"When the program started, I wished that I had taken it when I first got married. My marital life would have been very different", said Muhammad. He talks elaborately about the new energy in his relationship with his wife after he went through the activities of the programme. He now believes that her opinion matters. The workshops did not only just show him the need for gender equality at the household level, and men's need to participate more actively in childcare, but also the value behind this and the reasons why engaged fatherhood and positive masculinities make a happier and healthier family. His two children have benefited from his love and affection after some past incidents of fear and aggression.
Muhammad's influence went beyond his own direct family. Muhammad and his wife are talking to the men and women in the community, who learned more about positive masculinities in their own terms and understanding.
The example of Muhammad is one of the many success stories of the MWGE programme. Since 2019, this programme worked with over 150,000 men and women to promote their attitudinal and behavioral change in communities across four countries in the MENA region: Egypt, Lebanon, Palestine and Morocco.  Evidence from a rigorous evaluation of these community-based interventions conducted by UN Women indicates that men and women engaged in these initiatives notably improved their attitudes and behaviours in favour of gender equality and positive masculinities. The number of targeted beneficiaries with positive attitudes towards gender equality increased by 20.5 per cent, while those displaying more positive behaviors increased by 17.2 per cent.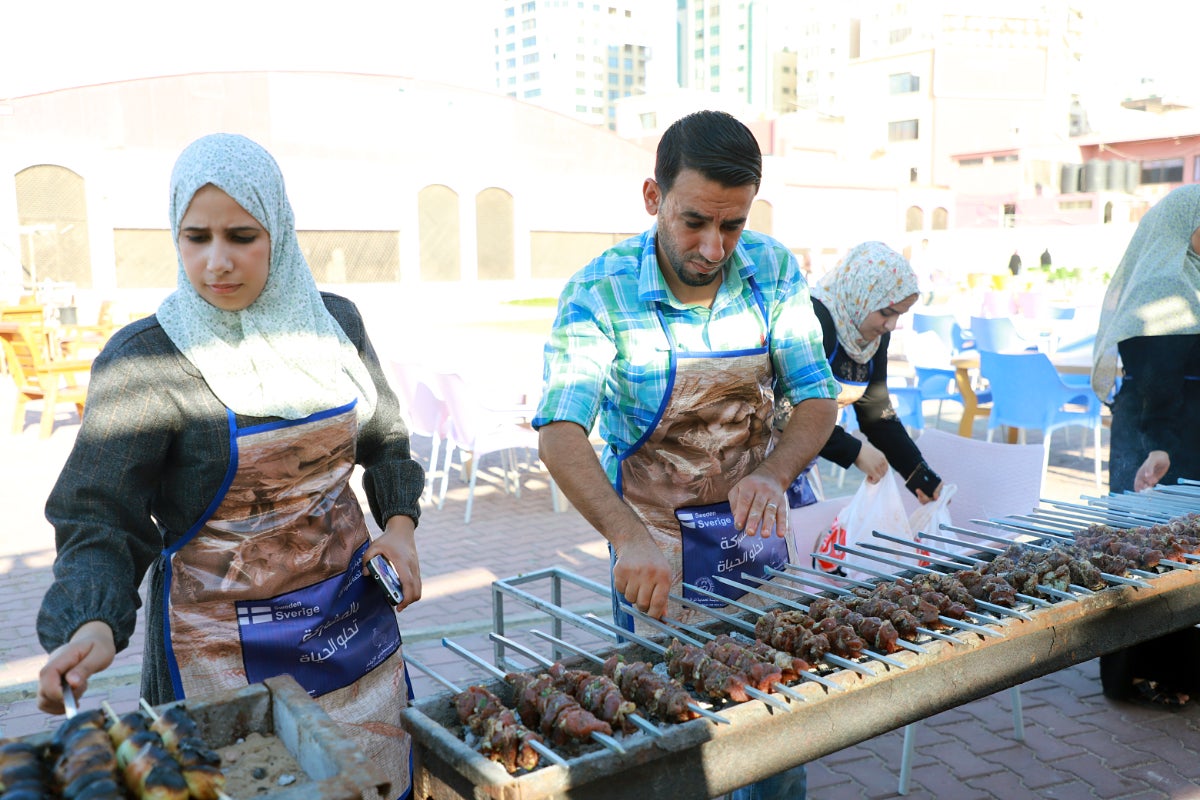 However, official data documented by UN Women indicates that a lot of efforts are still needed to reduce gender inequality in the MENA region when it comes to unpaid caregiving, as women in the Arab States region are still performing many more hours than men in unpaid care work:  between 17 and 34 hours per week, compared to only between 1 to 5 hours per week invested by men, depending on the country.
In the MENA region, a promising picture emerges: According to national surveys conducted by UN Women and partners in 2017, more than half of the men in Egypt, Morocco, Palestine and Lebanon want to spend more time with their children. In fact, global and regional evidence in the Arab States shows that men's caregiving and domestic work increase the wellbeing of their children, partner, and men themselves.  
Capitalizing on this evidence and the unique work of UN Women in the MENA region to promote positive masculinities, the MWGE programme launched the 'Because I am a man' campaign to engage more and more men in active fatherhood and gender equality. So far, the campaign has remarkably reached over 44 million people in the region through conventional media and social media platforms.
#Because_I_am_a_man
#FathersDay