Media collaboration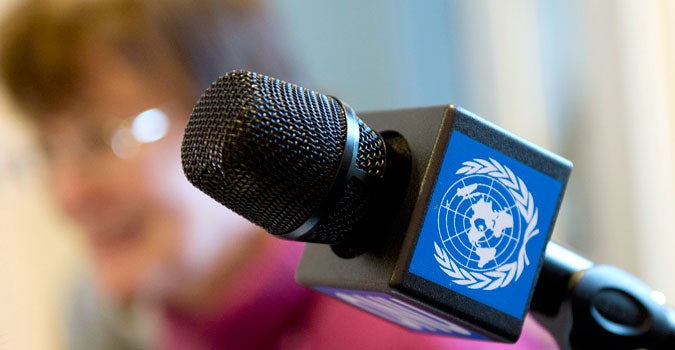 The media plays a significant role in perpetuating stereotypes as well as challenging social norms that condone discrimination or violence against women. UN Women collaborates closely with the media as a key ally in advancing women's rights.
As part of the efforts around the 2030 Agenda for Sustainable Development, UN Women launched the UN Women Media Compact in March 2016, which calls on media outlets to play their part in the implementation of the 2030 Agenda, with a focus on gender equality and women's rights issues, on two fronts:
in their reporting, disrupting stereotypes and biases; and
in increasing the number of women in the media, including in leadership and decision-making roles.
Thirty-nine leading outlets signed on as founding members of the UN Women Media Compact. The Media Compact will function as an alliance of media organizations who are committed to playing an active role in advancing gender issues within the framework of the Sustainable Development Goals. The outlets will implement the Compact by scaling up the focus on women's rights and gender equality issues through high-quality coverage, complemented by gender-sensitive corporate practices.
UN Women also facilitates in-depth media coverage on women's rights issues continuously, undertakes and supports research on the portrayal of women in news media as well as the entertainment industry. The organization facilitates media networks and training of local journalists around the world on gender-sensitive reporting and diverse topics—including how to cover women in conflict and peacebuilding or violence against women, and how to ensure balance in elections coverage—and analyse codes of conduct used by journalists and media organizations across the world.
To reach new audiences, including at the grass-roots level, new partnerships are explored on an ongoing basis, for example with the World Association of Community Radio Broadcasters, a network of 4,500 members in 150 countries.
Additionally, UN Women forges longer-term partnerships with media outlets at the international, regional, and national levels as part of its advocacy campaigns, such as during the Beijing+20 campaign, which worked to increase and raise the profile of women in the news. More than 30 media outlets from around the world joined the Beijing+20 Compact, spanning a variety of print, broadcast and online outlets. Thousands of reports, analysis, editorials, columns and feature stories were produced as a result, profiling courageous women and giving voice to those marginalized.