Facts and Figures: Ending Violence against Women and Girls
1 in 3 women worldwide have experienced physical or sexual violence at least once in her lifetime- mostly by intimate partners.
In some countries, the rate of violence against women is as high as 70%.
37% of Arab women have experienced some form of violence in their lifetime. There are indicators that the percentage might be higher.
Nearly 4 in every 10 of all women victims of homicide worldwide are killed by intimate partners.
133 million women alive today have experienced Female Genital Mutilation. In Egypt, 92% of women and girls between 15 and 49 years of age have experienced Female Genital Mutilation. Recent data shows progress with Female Genital Mutilation reaching 61% in girls between 15 and 17 years of age down from 74% in 2008.
700 million women alive today have been married under the age of 18. 14% of Arab girls marry under the age of 18.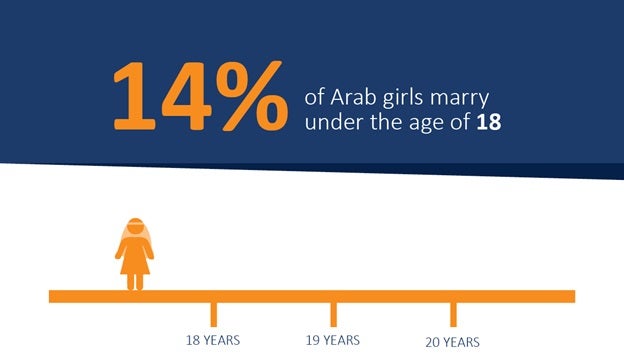 Women and girls make up 70% of all known human trafficking victims. Adult women constitute 50% of the total number of trafficked people. 2 in 3 child victims of human trafficking are young girls.
Rapists are often shown leniency or even acquitted in the Arab Region if they married their victims. In Morocco, article 475 of the penal code which allowed rapists to avoid prosecution if they marry their victims was repealed in 2014 following the suicide of a rape victim who was forced to marry her rapist.
More than 6 in every 10 women survivors of violence refrain from asking for support or protection of any sort. The remaining ones who do speak up turn to family and friends for this support or protection.
Globally, the total direct and indirect costs of violence against women for countries are estimated to be as high as 1-2% of Gross National Product. At the global level, this amounts to millions of dollars.