Libya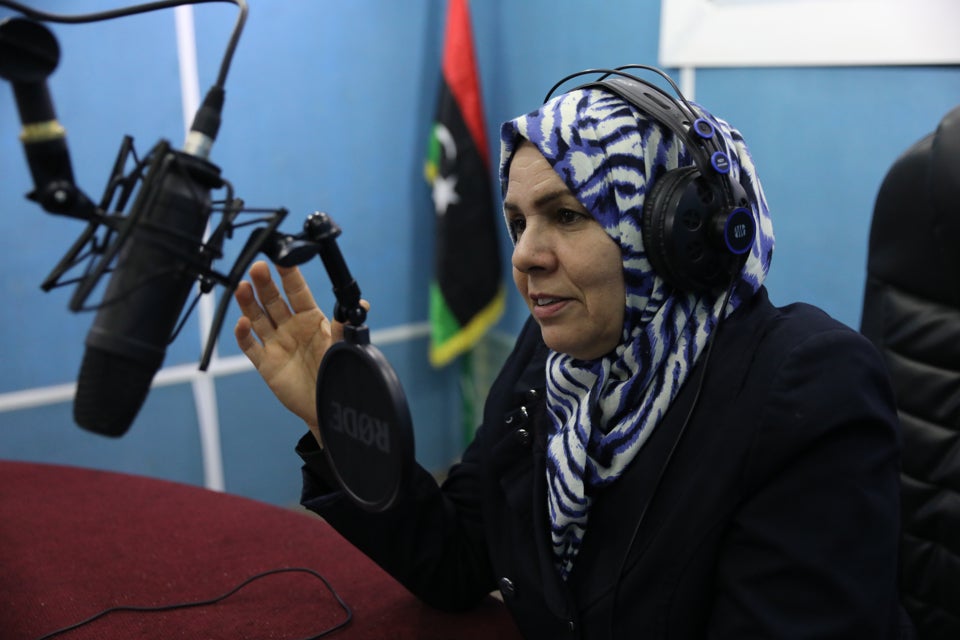 The crisis in Libya has negatively affected the lives of all Libyans, particularly women and girls who have borne the brunt of violence and instability. The ongoing conflict and gender-based discrimination has taken a toll on Libyan women and limited their economic, political and social opportunities. The humanitarian situation of Libyans was further aggravated by the COVID-19 pandemic whose worst impact has been felt by women and girls across the country.
With support from the United Nations and international community, and following the formation of the Libyan Political Dialogue Forum (LPDF), the Libyan Interim Unity Government, national stakeholders, and particularly Libyan women, are working towards inclusive stabilization, recovery, political unity, social reconciliation and economic prosperity.
Libyan women have made strides in their quest for equal participation and representation in the peace process. Since 2020, 17 women have participated in the LPDF to build consensus on a unified governance framework and arrangements to restore Libya's sovereignty and the democratic legitimacy of its institutions, including national elections that are scheduled for December 2021. Moreover, five women ministers have been appointed in the interim government, including Libya's first female Minister of Foreign Affairs.
Despite the ceasefire in 2020, the volatile political climate of Libya makes providing development support challenging, especially for vulnerable and marginalized groups and hard-to-reach communities. Additionally, the geographical spread continues to challenge efforts to ensure consistent and equal engagement with women from the West, East and South of Libya. Similarly, engaging the youth, particularly young women, remains difficult as they face discriminatory practices which have been worsened by the pandemic, limiting their much-needed civic and political participation. Women and youth's active participation in the elections has the potential to improve the daily lives of all Libyans and shape a future Libya for all of its citzens.
Libya's main obstacles to gender equality and women's empowerment:
Our solutions
Since its establishment in Libya in 2018, UN Women has built strong partnerships with governmental institutions, civil society, women's groups, other UN agencies, development partners, and the media across the country to highlight the impact of the conflict on Libyan women and girls and the importance of their contribution to peace and security. To support Libyan women's engagement in peace, humanitarian and recovery efforts while combatting all forms of gender-based violence, UN Women works closely with all stakeholders to make an impact in four main areas:
Women's equal political leadership and participation;
Women and girls' engagement in and contribution to resilience, peacebuilding and prevention of crises;
Strengthening Libya's laws on gender equality and women's empowerment and ensuring the judiciary is responsive to gender needs and considerations;
Ensuring the COVID-19 response and recovery efforts are gender-sensitive.
Areas of work and programmes
UN Women Libya has implemented programmes in line with UN Women Global Strategic Plan (2018-2021) and promoted the implementation of the Women, Peace and Security (WPS) agenda. The office has been working with all relevant stakeholders to promote women's active and meaningful participation in peacebuilding and the protection of their rights during the conflict and beyond.
Since 2020, UN Women has been at the forefront of promoting a gender-sensitive response to COVID-19 in Libya. This includes producing cutting-edge research that highlights the socio-economic impact of the pandemic on women and girls to inform response and recovery plans. The office has promoted women's vital contribution to preventive measures, and provided training on COVID-19 Risk Communication and Community Engagement to help limit the spread of the pandemic in cities and towns across the country in line with the UN Health Response Plan and Socio-Economic Framework for the Response to COVID-19 in Libya.
Our areas of work.
Under four areas of work, we seek to make an impact in the lives of women and girls and ensure that:
Libyan women equally lead, participate in and benefit from governance systems.
UN Women recognizes that advancing women's political participation and leadership, particularly in the upcoming elections that will shape post-conflict Libya, requires action on multiple fronts. This is done through working with different stakeholders, at different levels, to ensure that governance systems promote women's participation and leadership, including young women and those with disabilities, at the local and national levels. Additionally, UN Women collaborates with government bodies to enhance their capacities in gender-responsive planning, budgeting and staffing and to ensure women's access to a gender-responsive justice system.
Key partnerships and interventions under this priority area have led to significant achievements such as the participation of women in the Libyan Political Dialogue Forum, which increased awareness about women's issues and resulted in the inclusion of a declaration calling for a 30 per cent quota of women in the Government of National Unity.
Women and the youth contribute and have greater influence in building sustainable peace and resilience, and benefit equally from humanitarian efforts to alleviate the impacts of conflict and natural disasters.
In line with UN Security Council Resolution 1325 (UNSCR 1325) on Women, Peace and Security, Article 27 of the Berlin Communiqué calls for the 'full, effective and meaningful participation of women and youth in all activities relating to Libya's democratic transition, conflict resolution and peacebuilding.'
In response to calls from diverse Libyan women across the country, UN Women has advocated for mainstreaming gender into all aspects of the Berlin Process and subsequent transition, conflict resolution, peacebuilding and recovery activities. UN Women leverages its comparative advantage of longstanding relationships with civil society, in particular women's organizations, to bring together their voices, capacities and contributions in support of gender equality and women's empowerment. Ultimately, these efforts seek to create an enabling environment for women and girls to lead, participate in and benefit equally from all aspects of the peace process.
Additionally, through advocacy and communications, UN Women promotes partnerships among key actors working on gender-sensitive reporting, gender equality and peacebuilding at the local level with a particular focus on the youth, innovation and technology. Combined, these efforts seek to bring about favourable institutional and social attitudes towards women's participation in conflict prevention and peace-building. UN Women has supported women in southern Libya to increase their awareness about their rights in national legislation and international human rights. To celebrate the 20th anniversary of the UNSCR 1325, UN Women worked with various civil society organisations and actors on a social media campaign to raise awareness about the importance of the Women, Peace and Security agenda for Libya's democratic and stable future.
UN Women provides expertise and capacity-building for women civil society actors, youth and gatekeepers, as well as supporters of the peace process to engage in peace and stabilization efforts. For example, UN Women has been supporting the Libyan Women's Network for Peacebuilding, a network of women representing a broad social, political, generational and geographic spectrum of Libyan women, to build their skills on conflict negotiation, mediation and resolution.
In recognition of the importance of a comprehensive peace process that is sustainable and inclusive of all stakeholders, UN Women has supported youth organizations working to alleviate the hardships their generation faces, and to reduce gender inequalities across Libya. UN Women has provided numerous youth organizations with trainings, grants and fellowships to maximize their potential and contribution to their country's peace and security process. Additionally, UN Women organized various media trainings to build Libyan journalists' knowledge of gender-sensitive news reporting and the WPS agenda in Libya.
Implement international standards on women's rights and gender equality in Libya
UN Women leverages it's comparative advantage to link global and national policy development and bridge the gap between global normative commitments and their impactful implementation in Libya. In this respect, the office works to strengthen the capacities of government, civil society, women leaders, gender equality advocates and the youth to assess progress on implementing normative and policy frameworks on gender equality and human rights, including the Beijing Declaration and Platform for Action, the Convention on the Elimination of all Forms of Discrimination against Women (CEDAW) and the Commission on the Status of Women (CSW). A critical initiative to strengthening the implementation of international standards on gender equality was to work closely with the Supreme Judicial Council to increase their knowledge about CEDAW and gender-based violence to strengthen the Libyan criminal justice response to such violations. UN Women also supported Libyan experts who developed a comprehensive roadmap for a gender-based violence law in line with international human rights.
Key Facts and Figures
Knowledge Products
Stories
Video
Contact Information
UN Women Tunisia and Libya Cluster Office
Maison Bleue -Rue de Lac Windermere, Les Berges du Lac I – 1053 Tunis – Tunisie
P.O. Box 1053
Tel: (+216) 36 011 680