Civil Society
Background
A key strength of UN Women is its close working relationship with civil society. Indeed, at the global level the concerted advocacy of civil society organizations (CSOs) was critical towards the establishment of UN Women in 2011 as the United Nations entity dedicated to gender equality and the empowerment of women and girls. Since that date, UN Women's partnership with civil society has been increasingly strategic and innovative, and aimed at facilitating feminist solidarity and movement-building.
This relationship is at the heart of UN Women's mandate and is founded on the recognition of the need for multi-stakeholder engagement to achieve the full enjoyment of women's fundamental human rights. In the era of the 2030 Agenda for Sustainable Development, UN Women and civil society have worked together to highlight the principle of leaving no one behind, drawing particular attention to the reality that women and girls suffer intersectional discrimination based on their gender, age, disability, migrant or refugee status, nationality, ethnicity, health conditions, sexual orientation, geography and socioeconomic status, etc.
Engagement with civil society, particularly those at the grassroots, supports UN Women to identify and understand the needs of those most at risk of marginalization and to work to address these.
UN Women supports civil society participation in key intergovernmental processes such as the Commission on the Status of Women and other major international conferences. UN Women is proud to facilitate ongoing dialogue by civil society with key policymakers, ensuring that the voices of women are included and amplified in these crucial processes.
Beijing+25 and Generation Equality Forum
UN Women Regional Office for the Arab States (ROAS) engages with CSOs from across the region. Since 2019, this engagement has focused on the regional review process conducted on the occasion of the 25th anniversary of the adoption of the Beijing Declaration and Platform for Action (Beijing+25), including a youth and intergenerational forum concluding with the adoption of a declaration submitted to the regional Beijing+25 process, and a dialogue with UN Women's Executive Director, Phumzile Mlambo Ngcuka.
In addition, ROAS has engaged with civil society in subsequent work around the Generation Equality Forum, a civil society-centred, global gathering for gender equality, convened by UN Women and co-hosted by the governments of Mexico and France, expected to take place in the first half of 2021.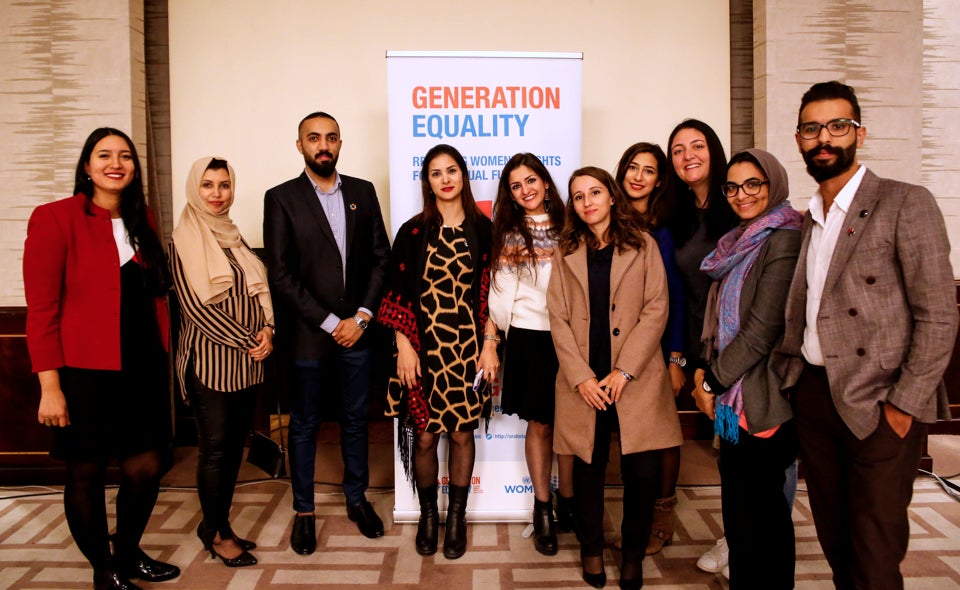 In 2018, ROAS established the Youth Gender Innovation Agora (GIA), a consultative forum and a platform for regular dialogue with youth. The GIA is constituted from civil society professionals, young advocates and influencers, who convene to develop innovative gender equality solutions and share best practices and innovative approaches. This group of young advocates has been actively involved in the regional Beijing+25 consultations.
COVID-19
In the context of the COVID-19 pandemic, strengthening partnerships with women-led and feminist CSOs has become even more crucial, to ensure that women are front and centre in the COVID-19 response and recovery at national, regional and global levels.
Since March 2020, ROAS has supported civil society actors from across the region to establish the "Arab States Civil Society Organizations and Feminists Network" with the purpose of informing COVID-19 response and recovery efforts in the region.
This growing CSO-led Network currently comprises of 25 active CSOs and women grassroots organizations from Bahrain, Egypt, Iraq, Jordan, Lebanon, Libya, Morocco, Palestine, Tunisia and Yemen.
The network aims to:
Galvanize efforts by different civil society feminist groups in the Arab States countries to collaborate to mitigate the effects of COVID-19 on women and girls, especially those from vulnerable and disadvantaged groups.
Create a strong voice and agency for women in the Arab States to address long endured structural gender inequalities in the region.
Provide policy advise and recommendations to governments in the region, in particular with relation to addressing existing gaps or loopholes experienced by women during the COVID-19 pandemic.
Share experiences and best practices of successful interventions undertaken by civil society groups in response to the pandemic.
Undertake gender analyses that highlight the differential impact of COVID-19 on women in the region and present them to governments, media, and the general public.
Call for opening spaces for civil society organizations to work together and with governments in response to COVID-19 to mitigate its effects on women.
Facilitate the participation of women in the region in global and regional intergovernmental processes as well as in civil society convenings, such as the Generation Equality Forum, and its Action Coalitions.
It has been founded on the premise of diversity and inclusiveness, bringing together representatives from organizations working with persons with disabilities, women migrants, women, peace, and security issues, LGBTQI populations and youth. The network also includes renowned feminists, representatives from the Generation Equality Forum Governance Structures, former Ministers, government advisors and former members of women's machineries from the region.
CSO Partnership Coordination Group
As part of its engagement with civil society, ROAS is also supporting a CSO Partnership Coordination Group which serves as an advisory group to the Network and aims to advance partnerships, resource mobilization for the network. The group comprises of international organizations including UN agencies, Oxfam, Open Society, Kvinna till Kvinna and KVINFO, with UN Women as Secretariat.
For any inquiries related to UN Women's work with civil society in the region, please contact:
Nesreen El Molla
Regional Monitoring and Reporting Specialist/Regional Civil Society Engagement Coordinator
UN Women Regional Office for Arab States
Address: Villa 37, Street No. 85, Sarayat El Maadi, Cairo, Egypt
Email: nesreen.elmolla[@]unwomen.org