In the words of Natalie Abushahla: "I have lived through many wars in Gaza, but this time around I am a mother of three."
Date: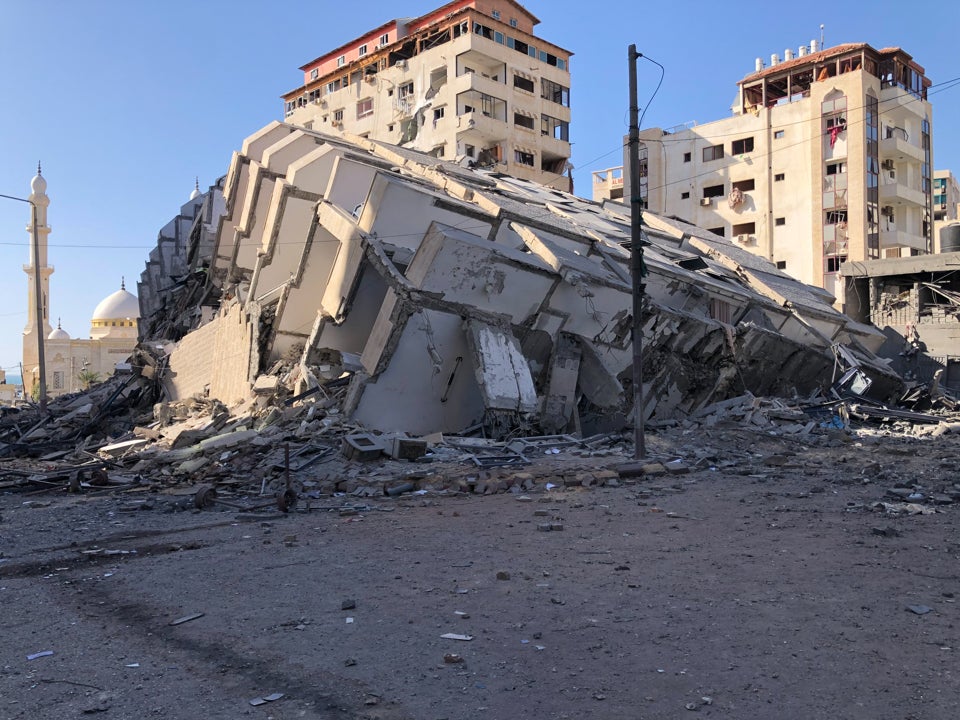 After living most of her life in Dubai, 43-year-old Natalie Abushahla moved to Gaza in 2003. She and her husband decided to build a life in their hometown where she has worked for many international organizations including the United Nations Population Fund (UNFPA) and the United States Agency for Cooperation and Development (USAID). Natalie has two daughters, aged six and ten years old, and a two-year-old son.
We used to live in a nice flat on the 9th floor of an apartment building with an unobstructed view over the sea. We worked hard for 17 years to build that home. Our building had more than 40 flats, each with a family, a story and hope for a better life. We had a good life in that flat and we were content with the little comforts that Gaza could give us.
Yesterday, in a second, our home was gone, along with all of the memories that we had in it. It was burned down by an Israeli airstrike that hit the building.
We got a warning to leave in 30 minutes. We fled our house only with the clothes on our back, leaving everything behind. We did not even have time to take our passports. How could we pack our whole life in 30 minutes while death is looming over us?
I do feel lucky that we got that warning and we managed to leave unharmed. Many families were not that lucky. Some were warned, but could not move as fast, especially the elderly. Others had limited mobility and had to be carried on the back of their family members. Another building nearby was bombed and whole families were killed, mostly women and children. People who we saw only yesterday are no longer there today. It is very difficult to comprehend this reality.
We are now staying with my in-laws until we figure out where to go. We are fortunate in this regard too. Many families are left with no roof over their heads. Many are in the streets oblivious to the pandemic that is also ravaging Gaza. When death is around the corner, all other threats pale in comparison.
Since I moved back to Gaza in 2003, I have lived through many wars. Each one had its own challenges that we had to grapple with. But with every war, we relive the dispossession and displacement of the 1948 war. It all comes back as if it had never stopped. We feel powerless, unable to do anything.
This time around, I am a mother and I have to protect my three children from the violence and help them cope with the loss of our home and the sheer destruction. Trying to understand what is going on around us, they keep asking questions that I do not always have answers to. They ask if we can go back home and if we can go collect our stuff. My little daughter is consoled that she managed to take one of her favourite teddy bears with her, all the others are gone.
My eldest daughter told me that if we had died in that explosion, we would have gone to paradise instead of staying in Gaza. I try hard to convince them that all of this will stop soon. My two-year-old son has had a fever since the conflict started, and I cannot take him to the doctor. It is difficult to be a mother during war. I do not have the psychological strength to even stand up and cook for them. Nevertheless, I try to stay composed, speak to them and reassure them. I even make jokes to make them laugh. At the beginning, I used to tell them that what they were hearing were Eid fireworks. Now that the fire got so close to us, we do not speak of fireworks anymore.
We went to see the house today. It was still boiling hot. The walls and pillars were all gone and the whole place was reduced to pitch-black soot. We could not retrieve anything. I doubt that our loved home will be repairable and safe to go back to one day. Even if we do, it will not be the same again. We have lost its sense of security forever. And it is not the only Gazan home that was gone. Apart from the horrific humanitarian toll that this war has inflicted on Palestinian civilians in Gaza in a matter of days, it has had a devastating economic impact on survivors. Like us, many have worked their whole life to have a place they could call their own, and now it is gone.
We don't need aid and vouchers. What we need is to finally live in peace and dignity."