The United Nations Country Team in Bahrain builds its skills to mainstream Gender Equality and Leave No One Behind in its strategic planning for enhanced results
Date: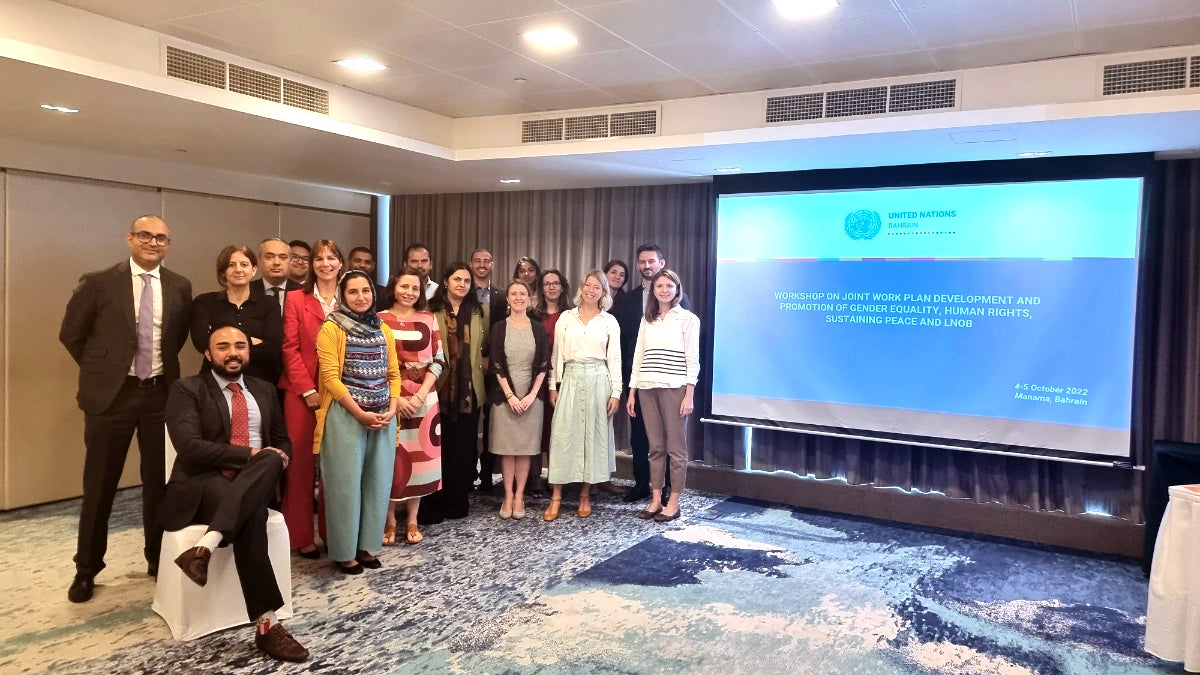 On 4 and 5 October, the United Nations Country Team (UNCT) in Bahrain participated in a skills-based training exercise to strengthen its capacity to advance the Leave No One Behind (LNOB) principle in its country programming in Bahrain.
With the successful signature of the Strategic and Sustainable Development Cooperation Framework (SCF) in 2021, the UNCT is committed to advance the national development priorities of the Kingdom of Bahrain in alignment with the 2030 Agenda and the 17 Sustainable Development Goals. The four outcomes of the SCF address 1) environment, energy, and food; 2) quality, comprehensive social services; 3) economic diversification, public administration, and resilience; and 4) Bahrain among nations.
The UNCT examined how increasing focus on the universal standards of gender equality, human rights, sustaining peace, disability inclusion and youth empowerment can optimize the impact of SCF investments. The training was a joint initiative of the UN Resident Coordinator's Office in Bahrain, the UN Women Regional Office for the Arab States, and the Regional Office of the Development Coordination Office, with support from the Office of the High Commissioner for Human Rights. This was the first time that a UNCT participated in this integrated training, which included practical exercises to mainstream the LNOB principles in UN programming in support of Vision 2030.
"To ensure that Bahrain's investments in its national development achieve their objectives, it is important that national programming is inclusive and fully-aligned with the 2030 Agenda. This workshop is a great example of innovation for increased programmatic impact" said participant Hassan Alrayes, UNFPA's Partnerships & Liaison Officer in Bahrain.
The SCF is implemented through a set of reinforcing programmatic approaches, including supporting a culture of measurement, monitoring, evaluation, and learning to advance the implementation of country priorities and related SDGs; use of disaggregated data and statistics to measure results; and the advancement of Bahrain's commitments on gender equality and human rights. The training supported the UNCT to implement these approaches by introducing them to the UN planning tools to apply and measure these standards. The discussion in the room also stimulated conversations around opportunities for further collaboration by the UN system in Bahrain to support greater efficiency and coordination for results.
The experience of the Bahrain UNCT will be used to inform further workshops for UNCTs taking place in the region shortly.
For more information on the UN in Bahrain, please visit bahrain.un.org.