In the Words of Rabab Nofel: "My Disability Magnifies my Fear of Gaza's Escalations".
Date: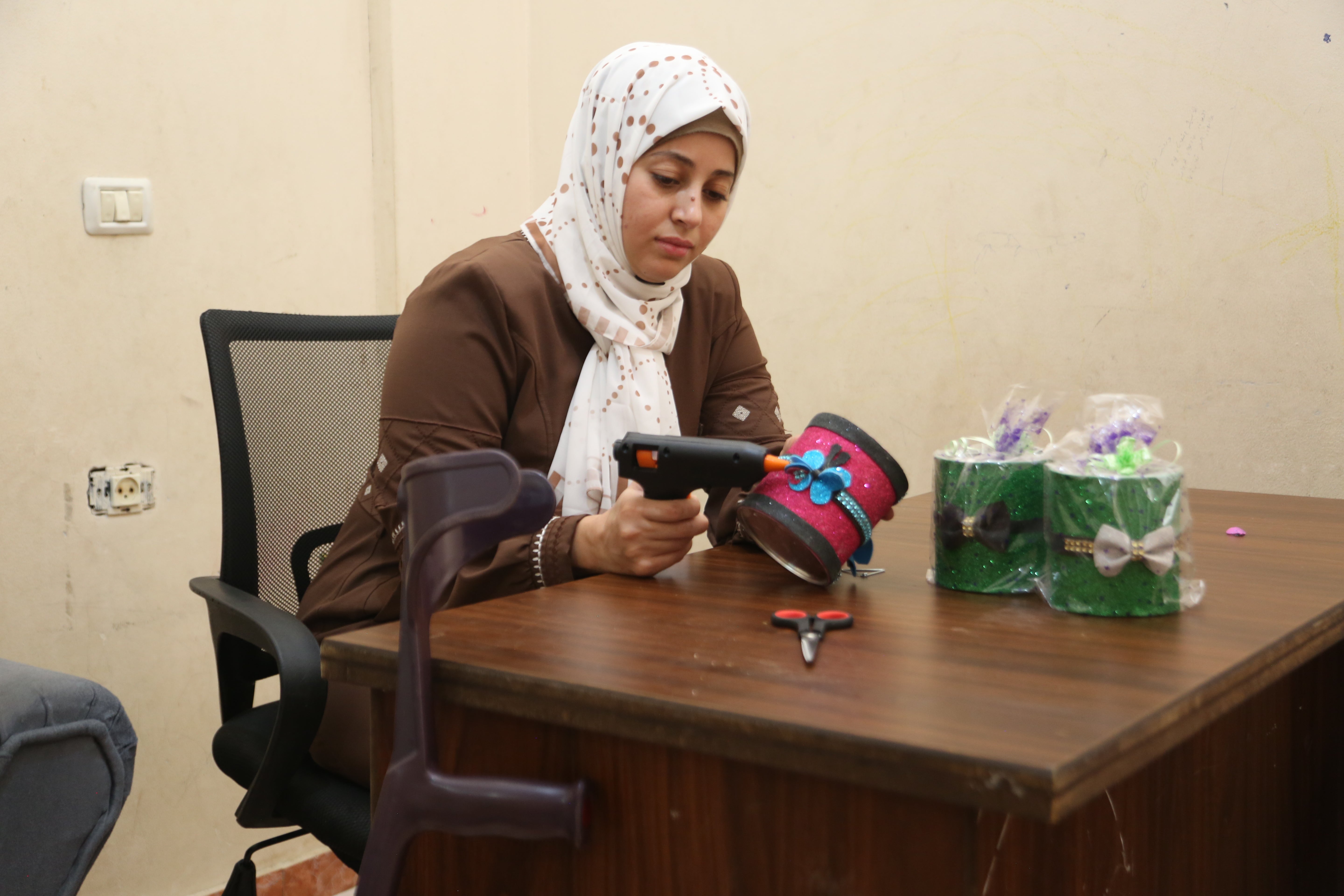 Rabab Nofel, 30, lives with her two-year-old son and husband in a rented apartment in Gaza. She was born with a disability that restricts her movement. To make a living and support her son, Rabab creates and sells perfumes from home, but her livelihood often gets disrupted, particularly during escalations of violence. Women with disabilities have limited opportunities in Gaza to build economic resilience. Only around four per cent of women with disabilities participate in the workforce. Moreover, they suffer from inadequate access to adapted healthcare. The blockade and successive escalations have put immense pressure on Gaza's already depleted health facilities, depriving many women and girls with disabilities of essential health services, psychosocial care, and rehabilitation. A gender analysis by UN Women of the 2021 escalation found that as much as 60 per cent of households that include members with disabilities noted the deterioration of health services as result of the escalation.
"The last escalation filled me with fear. A fear deeply rooted in my inability to move. During these very difficult five days, I could not sleep for fear that I might need to escape with my two-year-old son. Unlike others, I simply cannot run. I am completely dependent on my husband to move me if we ever need to flee. Sometimes I manage to crawl, but not always.
Most Gazans seek refuge in schools when hostilities break out, but I dread taking shelter in these facilities because they are unsuitable for people with disability. In these situations, my disability magnifies my feelings of fear and embarrassment.
These feelings are not new to me. During the 2021 war, my biggest fear was also having to flee my home to seek shelter from bombardment. My own house is barely adapted to my mobility needs, how could I deal with places full of stairs and bathrooms that are not made for people with restricted mobility? At that time, my fears were even greater because my son was still a baby, and I was pregnant and needed health care that I could not travel to get. My pregnancy ended in miscarriage.
The violence has stopped now, but my fears continue to grow. I am constantly afraid of an injury that restricts my movement even more, or another escalation that forces me to flee with my son."