WeRise, a new mobile game app for youth to promote gender equality in the MENA region
Date:
[Press release]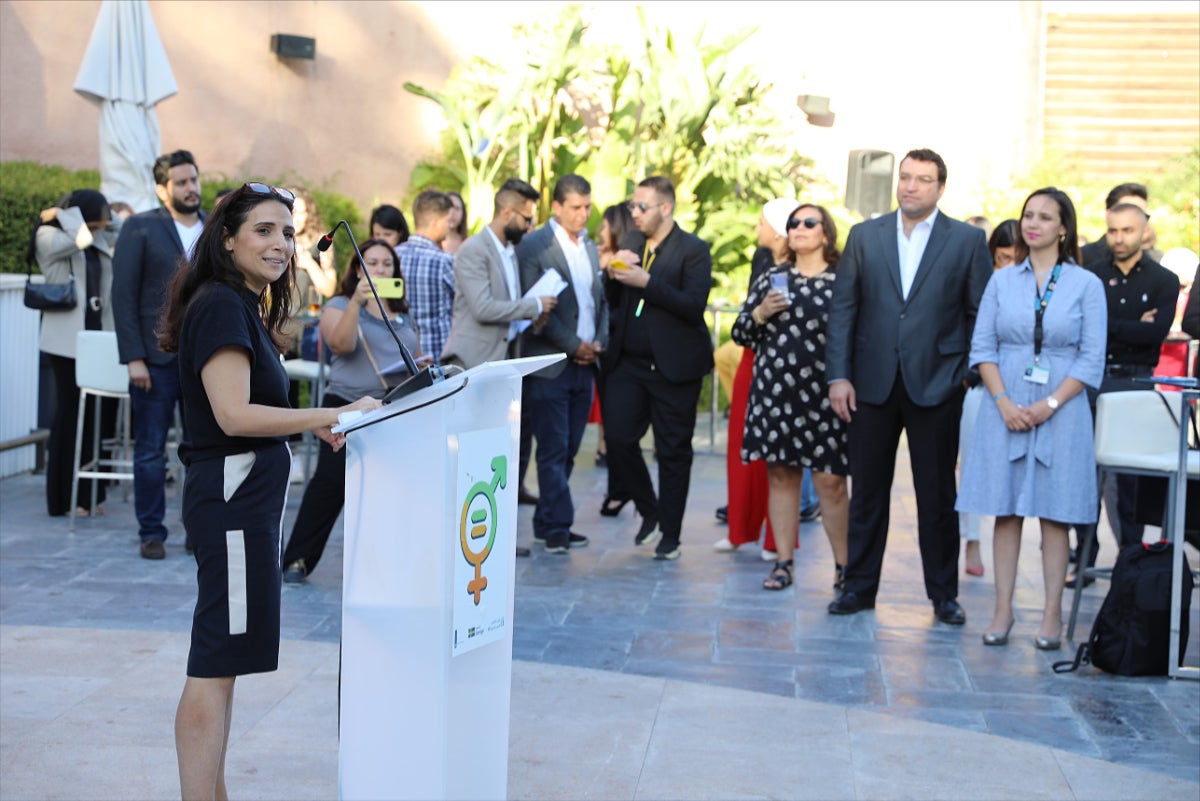 Amman (Jordan) – Dozens of young people from the Middle East and North Africa (MENA) region, opinion leaders and representatives from governments and the United Nations launched today in Amman ( Jordan) a new game app called WeRise that aims to promote gender equality. WeRise was developed by youth and for the youth, with more than a hundred of young volunteers from six MENA countries who developed the game's contents with support from UN Women.
WeRise is an edutainment app for smartphones, available in Arabic, French and English languages on android and ios stores, through a multitude of competitions, word puzzles and more, which highlights the important role young people can play in bringing people together to promote gender equality, societies closer, and women's and men's rights and voices equal.
"We strongly believe in the role of young women and young men to make communities and societies more just, inclusive and as a result mor prosperous for all. Young people are a repository for progress of societies across the Arab region, including in the area of the rights of women and girls. Edutainment is a globally rising industry, expected to grow to 8.1 billion in the next ten years. And that is why UN Women together with its partners are part of this exciting development of a fun and informative app, that will equip Youth throughout the Arab States and even globally, with further knowledge around gender equality, making them even stronger agents for change within their communities and societies at large", said Susanne Mikhail Eldhagen, UN Women Regional Director for Arab States.
UN Women and young volunteers from Egypt, Lebanon, Morocco, Palestine, Tunisia and Jordan developed this game with support from the governments of Sweden and The Netherlands, to question gender stereotypes and change attitudes towards discriminatory gender roles in the MENA region. The development of WeRise was done under the framework of the UN Women's regional programme, 'Men and Women for Gender Equality', whose goal is to promote social norms and behavioral change in favour of gender equality.
"I am truly excited about the WeRise game app and hope it contributes to engaging more and more young men and women for gender equality and women's empowerment in Jordan and across the MENA region. It's encouraging to see the creativity in using gaming as a platform to educate, raise awareness and foster discussions on gender roles and stereotypes" said H.E. Alexandra Rydmark, Sweden's Ambassador to Jordan.
Information for the media:
Social Media: Follow @unwomenarabic on Instagram, Twitter and Facebook and join the conversation on social media using the hashtags #
#WeRise
#GenderEquality
#UNWomen
For more information please contact:
Maliha Bassam,
Communications Specialist
UN Women's Jordan Country Office
Email: [ Click to reveal ]
Ola Tanani
Communications Specialist, Men and Women for Gender Equality
UN Women's Regional Office for Arab States
Email: [ Click to reveal ]