UN Women partners with Twitter MENA, LBCI, & Annahar to launch 'The Missing Peace': a compelling campaign calling for women to engage in peacebuilding dialogues.
Date:
[Press release]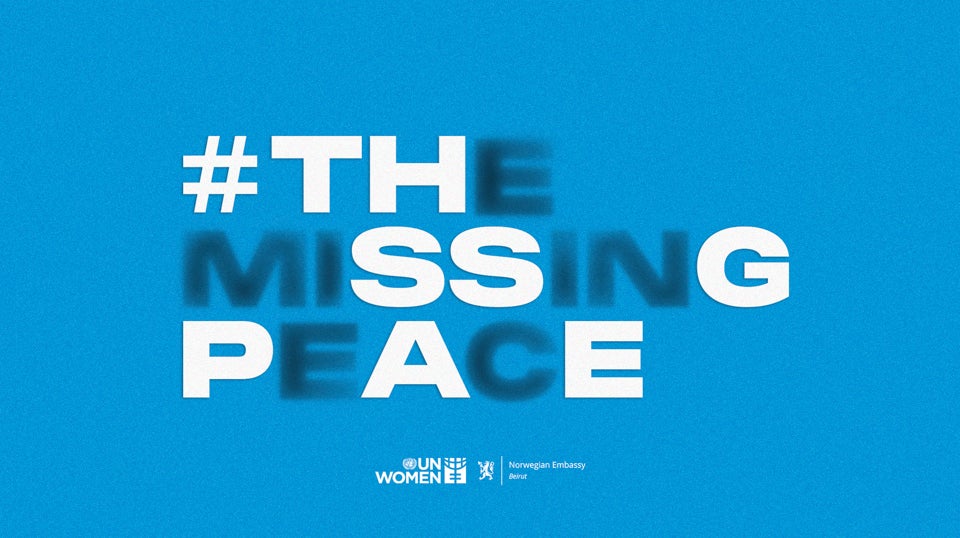 BEIRUT (UN Women, Twitter): UN Women Lebanon has partnered with Twitter MENA, LBCI & Annahar to launch a women empowerment campaign that sheds light on the importance of engaging women in dialogue and negotiations, acknowledging that equal participation is directly linked to more durable solutions and sustainable outcomes. 'The Missing Peace' campaign launched on Twitter in both English and Arabic languages using the hashtags #TheMissingPeace and مش_حرف_ناقص#. The campaign is articulated around removing half of the alphabet from UN Women's Tweets on the day, allowing the audience to experience and visualize a dysfunctional public dialogue. The purpose of this is to depict that productive debate needs to be inclusive of women's hopes and aspirations.
Lebanon's National Action Plan on UNSCR 1325 on Women, Peace and Security that was approved by the government calls for Women, Peace and Security calls for women to participate in decision-making processes at the local and national levels in government, parliament, municipal councils, and other decision-making bodies across all sectors.
Women make up fifty percent of the population in Lebanon, yet they have long been left out of any decision-making in the public arena. For a comprehensive peacebuilding and dialogue, they need to be well-represented moving forward.
Ms. Rachel Dore-Weeks, Head of UN Women Lebanon, said "Recovering from Lebanon's current crisis will necessitate negotiation, compromise, concession, reform and a clear way forward. This will only be successful if those engaged in this process represent all of society – including men and women equally. We know that more women in peace related deliberations result better results. It's now time to put that into action'.
Mr. Martin Yttervik. Ambassador of the Kingdom of Norway, that supported the campaign, said:"Women in Lebanon continue to play an active role in promoting peace and stability in the country. It is time for their role to be recognized and their active participation ensured in peacebuilding negotiations, especially at this critical time for Lebanon."
Jawaher Abdelhamid, Public Policy, Government, and Philanthropy Manager at Twitter MENA said, "At Twitter, it is important for us to spearhead initiatives that promote positive and meaningful dialogue. 'The Missing Peace' is an opportunity for us to reflect on our collective efforts to create a more equal world. Twitter seeks to engage with and empower women to communicate safely and with confidence both online and offline. For government policies to be representative of the communities they serve, we see that it is imperative for women to have an opportunity to participate in this dialogue. By creating a parallel between the missing letters and the lack of female representation in political bodies, we aim for this campaign to encourage more women to participate in discussions that drive positive change in the region."
To complement the efforts, Local TV station, LBCI, opened its prime-time news bulletin with a broken alphabet introduction to underline the importance of including women and all segments of society as equal partners in shaping the future of Lebanon. Also, Annahar local newspaper, participated in the 'The Missing Peace' campaign by launching a special issue with half of the alphabet missing from its front page.