ICT trainings for women in Lebanon facilitate access to job market
Date:
Growing up in what she refers to as an 'unstable environment', Rebecca, 26, spent her childhood moving around between the different homes of her divorced parents and that of grandparents who were abusive. Compelled to drop out of school in the 8th grade, Rebecca left home at the age of 16 and has been financially independent ever since. Over the years, she has taken care of herself by taking on a variety of jobs, including working as a promoter, makeup artist and waitress. At the start of the pandemic in 2020, Rebecca lost her waitressing job. "I was unemployed, and with COVID-19 and the dollar crisis, I did not feel like I have anything to live for. I would wake up, eat, sleep, and repeat for weeks." At one point, she was no longer able to pay her rent and had to move.
With the ongoing economic crisis in Lebanon, compounded by the COVID-19 pandemic and resulting lockdowns, many young people like Rebecca are struggling to survive. It is estimated that more than half (55 per cent) of the population was living below the poverty line by May 2020, a rise from 28 per cent in 2019. A UN Women study found that women's unemployment rate increased from 14.3 per cent before the crisis to 26 per cent by September 2020. This translates to a 63 per cent increase in the number of women who are unemployed.
It was at this low point in her life that Rebecca came across an ad on YouTube for a free Information and Communications Technology (ICT) training offered by the Codi Center in Beirut to foster digital education for underserved youth. Rebecca applied for their training programme in computer coding. "When I got to the Codi Center, a mentor suggested that I begin with computer literacy lessons. I did not even know what computer literacy means."
Rebecca went on to be part of a batch of female trainees supported by UN Women to learn market-based ICT skills at the Codi Center. To date, the majority of women's economic empowerment and livelihoods programmes in Lebanon – including many supported by UN Women - have channeled resources towards more 'traditional' areas of work for women, including sewing, handicrafts, beauty, hairdressing, and food production. "While these interventions can provide positive outcomes for women to work, there is a growing need to explore and expand to new solutions to adapt to the changing local and global economy," says Rachel Dore-Weeks, Head of UN Women in Lebanon. "Traditional areas of intervention, while still necessary and impactful, do not challenge the normative conception of appropriate work for women in the long-term."
The UN Women programme—conducted in partnership with ACTED, a French humanitarian NGO working in Lebanon, and made possible through the generous contribution of the Government of Croatia—aims to empower women through technology, to support them in finding dignified work as well as foster acceptance of women working in non-traditional sectors, which can ultimately lead to the transformation of socio-economic gender roles as well as opening new markets for women's employment at large scale.
Over a six-month period, Rebecca and her fellow Codi trainees progressed through a series of modules to graduate with an advanced certificate in ICT which included skills in digital literacy, basic coding, analytics, management of online information, web development, social media, , and IT safety and security.
For Farah Haddar, 22, a Lebanese who also recently took part in a Codi programme, the training filled knowledge and skill gaps that are not being addressed by formal education in the country. Despite high levels of education, many young graduates across the country like Haddar are struggling to find decent work with wages that meet basic living costs. Farah, who supports her entire family along with her brother, feels that her bachelor's degree (in Management Information Systems) ill-equipped her for the working world. "When I was still in university, I realized that the materials we were [studying] were outdated or cannot be applied in [jobs]. I finished university, and I still didn't [fulfill] any of the requirements in job vacancies, so I decided to take the ICT training," says Farah. "I don't think I can ever say enough to give this training justice. Everything I know -and I apply now- are things I learned on this training."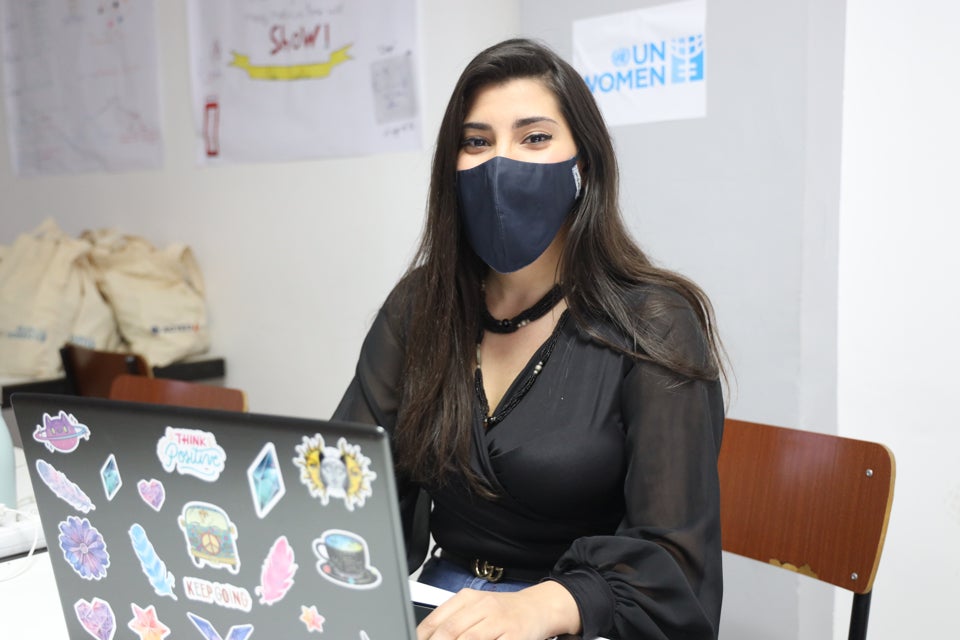 Fellow trainee Farah Ali, 22, majored in Bioinformatics in university, but graduated to find a similar lack of job opportunities in her sector in Lebanon. "It is hard seeing so many people unable to provide food for their families," says Ali, a Lebanese-Palestinian. "People working with what were previously thought of as middle-class salaries are suffering because they cannot afford food anymore due to the soaring prices of essential items like rice and oil." Ali is confident that the Codi training has equipped her with the right skills to find employment, but also acknowledges that there remains an uphill battle in Lebanon to employ more women in the ICT sector: "In general, it is harder for girls to find jobs in tech. Whenever you apply to any tech-related field, they will always favor the guys arguing that they understand and know more and 'can work better than women'. I know that is not true. Employers need to prioritize knowledge and competency over the gender of the applicant."
On graduation day at Codi, each of the trainees presented a final project they'd been working on, including a demo of an application they had each built from scratch. Codi is in the process of publicly sharing these projects, in the hopes of attracting funding from investors who may wish to help bring some of these ideas to life. The participants from UN Women's initiative were also provided with a laptop to help them start their new careers in ICT.
Ali remains hopeful about finding a job in the ICT sector soon. She takes comfort in the fact that her sister, who told her about the programme, was also part of a previous training cohort at Codi and is now working in web development. In fact, in 2020, 81 per cent of all graduates from Codi's programmes found employment following their training. Ali credits this success to the holistic nature of the programme, "During the ICT training, mentors gave us non-technical lessons, and we had many workshops on enhancing our English skills, public speaking, dealing with problems, and dealing with clients, projects, and deadlines."
Haddar recently started a new job as a full-time web developer with a digital agency. "The ICT training for me was a life-changing experience," she says. "Before I came to Codi, I was very hesitant to leave my job. Since I started with Codi, so far, I have had many job interviews. Once I added the ICT training with Codi on my resume, I started getting a lot of callbacks." Today, she has big dreams for the future. "My plans now are to gain more experience in web development to open a center like Codi for school students. As formal education often does not meet the requirements of the job field, I want to help the young generation, so they are more prepared once they enter the job field."
Meanwhile, Rebecca reflects on the fact that a year ago, she had never even owned a laptop of her own. Today, the 26-year-old is working as a web developer. "The only time I ever sat behind a laptop was to update my CV, which I would need help with and struggle to finish. Looking back at this period of my life, I genuinely believe that women are warriors, especially women who have survived and suffered greatly."