UN Women and WFP Unveil Expansion of 'Oasis for Women and Girls' – Safe Space in Za'atari Refugee Camp
Date: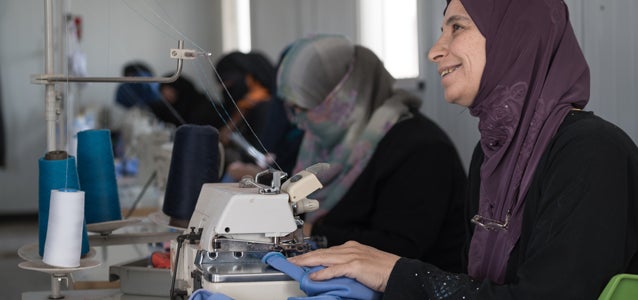 The United Nations Entity for Gender Equality and Women's Empowerment (UN Women) and the United Nations World Food Programme (WFP) have joined forces to support refugee resilience in Za'atari refugee camp. Nearly 80,000 of the Syrians who have escaped the conflict in Syria have sought shelter at Jordan's largest refugee camp, Za'atari, where UN Women and WFP are working together to provide economic empowerment programmes for women and girls.
UN Women Jordan and WFP launched today the third safe space for women and girls in Za'atari refugee camp. Operational since 2012, to date, the 'Oasis' safe space for women and girls receive approximately 5,000 visitors per month. Funded by the governments of Finland and Italy, this safe space is the site of the Eid bi Eid programme (hand in hand in Arabic), that promotes vulnerable female refugees' capacity to support themselves and their families and help meet their basic food needs and diversify their diets and nutritional intake. The Oasis uses the building generously donated by the Civil Military Support Element of the United States of America and is supported by the Government of Jordan's Syrian Refugee Affairs Directorate.
"Restoring the dignity of women affected by conflict and war is at the heart of our work in Za'atari camp," said Giuseppe Belsito, UN Women Jordan Representative. "We are proud to partner with WFP to allow us to maximize our impact in the work we undertake with refugees. The partnership combines the strength and expertise of WFP in humanitarian delivery with the expertise of UN Women in gender equality, empowerment, and women's rights,"
In addition to helping families meet their basic needs, the UN Women and WFP programme empowers women and girls in Za'atari camp to play a greater role in local decision making through UN Women's female camp committees. The Eid bi Eid builds the confidence and abilities of these women and girls through life skills training including literacy and computer classes and recycling and handicraft workshops while offering on-site child day care. The center also provides protection referral services and engages men and boys in the prevention of sexual and gender based violence.
"This centre demonstrates our commitment to women and girls. Seeing how happy they are when learning new subjects and showing their handicraft products makes you realise how this center brings back a much needed sense of normalcy and dignity to their lives," said Mageed Yahia, WFP Country Director for Jordan. "It helps them build a life in Za'atari camp and prepares them for the challenges of the future."
UN Women provides female-focused cash for work opportunities in the camp. UN Women's monitoring has found that in Za'atari camp, women spend the majority of this income purchasing fresh food such as meat, vegetables and fruits to supplement their families' diets as well as hygienic products. Since the camp first opened, WFP has provided food assistance to refugees, through electronic vouchers, fresh bread distributed on a daily basis and daily nutritious snacks for students in both formal and informal schools. WFP also supports 440,000 vulnerable refugees living outside of the camp through its electronic voucher programme.
Attended by various representatives of the donor community and camp-based authorities, the launch event for the third centre provided an opportunity to present the work done through the Oasis for women and girls in support of Syrian women and girls.