Arab League Presents Regional Action Plan for Women, Peace and Security
Date: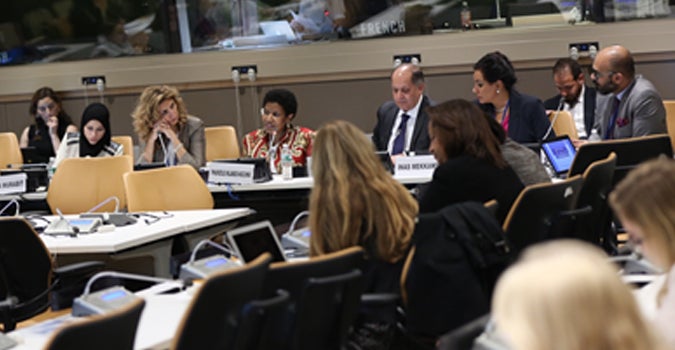 In partnership with UN Women, the League of Arab States has presented a regional action plan for women, peace and security on Monday, October 12, as part of the United Nation's review of Security Council resolution 1325 fifteen years after its adaptation. In accordance with resolution 1325 on women, peace and security, the action plan calls for meaningful participation of women and girls at all levels of decision making to build and preserve peace at conflict areas and to combat terrorism.
Afflicted by armed conflicts and an alarming surge in terrorist extremism in several countries, the Arab region has seen some of the worst forms of sexual and gender-based violence during conflict, from the abduction and sexual enslavement of young girls under the Islamic State, to early and forced marriages as a result of displacement.
For Syria alone, over four million Syrians are now refugees- 50.4% of whom are women who find themselves more economically and socially vulnerable than ever. Conflicts also exacerbate existing gender inequalities further compromising women's economic rights, reproductive rights and access to education and adequate healthcare.
However, comes time of reconstruction and peace building, women are often absent from the tables of negotiations which entrenches gender inequality in post-conflict communities as well. Between 1992 and 2011, only 9% of conflict resolution negotiators around the world were women.
Resolution 1325 advocates for transforming the view of women in times of conflict as victims only.
"As peacekeepers, mediators, negotiators and political leaders, they [women] are agents for social change and for sustainable peace", asserted UN Women's Under Secretary General and Executive Director, Phumzile Mlambo- Ngucka.
The Arab action plan stresses the need for the prevention of all forms of violence including sexual gender-based violence during conflict. The plan allocates resources and provisions to push for women's participation in peacebuilding, mediation and diplomacy at all levels of the decision making process.
"Women have to sit in councils to decide for peace, to negotiate peace and to build peace," stressed Her Excellency Inas Makawy, director of the Women, Family and Childhood department at the League of Arab States, "This is our only way out to have a lasting peace, not only in the Arab region, but in the whole world."
Involvement of women in peacebuilding is not only a right owed to women especially because of the disproportionate impact of conflicts on their lives, it is also an added enhancement for the chances of conflict resolution and a guarantee for the sustainability of peace.
In Tunisia, for example, intense tensions in the country could have led to civil war, said Ambassador Ahmad Fathallah, Permanent Observer for the League of Arab States at the United Nations, but the tremendous efforts of the Tunisian National Dialogue Quartet had a significant impact on pushing the country in the direction of dialogue instead of conflict- efforts that were internationally acclaimed when the Quartet received the Nobel Peace Prize.
"The Quartet played a major role to forge the path for dialogue and peace, and one of the four is a woman", Ambassador Fathallah emphasized.
As a direct result of instability in times of conflict, gender equality and development in general are hindered, said Her Excellency Salma Nims, Secretary General at Jordanian National Commission for Women. Jordon, Her Excellency said, is fast-tracking a national action plan that "takes into consideration the emerging issues, including refugees and extremist thinking, and how women can and should play an important role in peacebuilding."
"There is a need for an inclusive process in peacebuilding, one that has room for differences and one that carves out spaces for women and girls", said Mr. Mohammad Naciri, the Director of UN Women in the Arab Region.
The League of Arab States' action plan is a tremendous show of commitment from the Arab League member states. But it is only the beginning- a first step for the formulation of a responsive policy.
Policy, however, "needs to be followed up by action, implementation and resources", as Dr. Alaa Murabit, Libyan women's rights advocate reminded us, "Policy alone is not enough."