Challenging Stereotypes: How a Young Lawyer Became a Vocal Advocate for Women's Rights
Date:
Story originally published on UN Women Palestine's website.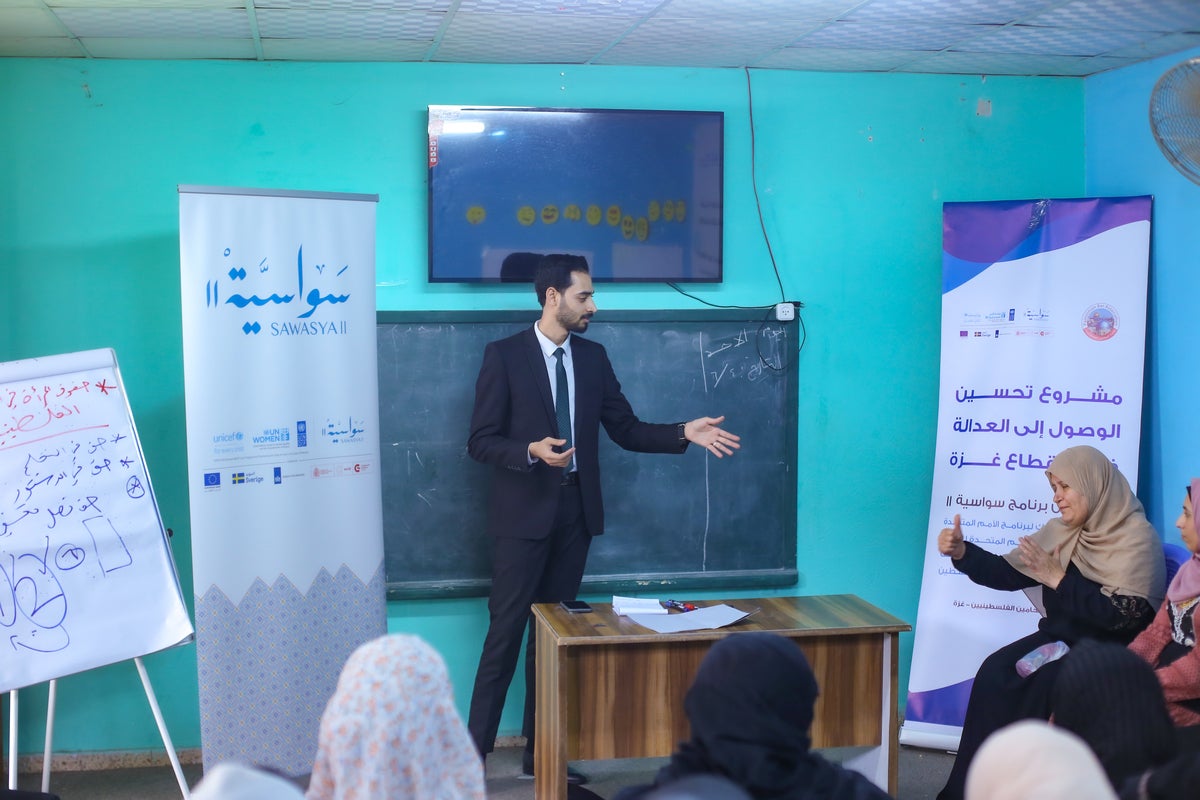 "I never thought I would become an advocate for women's rights in Gaza"
Huthayfa Shbair, 26, is a Palestinian lawyer whose upbringing instilled in him great respect for the legal profession. Huthayfa was drawn to defend human rights and fight injustice. However, his path to becoming a human rights defender was not without its challenges. Growing up in a culture that frowned upon interactions with women had limited his exposure to gender-related issues.
With the opportunity to practice law under the Palestinian Bar Association in Gaza, Huthayfa initially struggled to connect with his female clients, particularly those who had experienced gender-based violence. As he listened to their stories and learned about the systemic challenges they faced, he began to recognize how his own biases and beliefs were hindering his ability to provide effective legal representation.
Huthayfa's life changed significantly when he was selected to join the Women's Rights Unit of the Palestinian Bar Association for a project supported by the Sawasya Joint Programme under the United Nations Entity for Gender Equality and the Empowerment of Women – UN Women.
This opportunity opened his eyes to the world of gender justice and women's rights. Through his work, he visited various judicial institutions to understand the critical role of the legal profession in ensuring these issues were addressed Top of Form "During my participation in Sawasya activities, I visited institutions such as the High Judicial Council, the Prosecutor's Office, and the Women's Police to assess their response to gender awareness and women's participation in decision-making positions, and I realized the importance of advocating for and defending human rights, especially for women".
In recognition of his leadership role in promoting gender justice and women's rights within the PBA's Women's Rights Unit, Huthayfa was then selected to complete an additional three-month internship within the Women's Rights Unit and Legal Clinic.
During this time, he successfully coordinated gender justice awareness sessions and conducted gender justice workshops for colleagues and vulnerable groups in marginalized areas in the Gaza Strip. "Through these activities, I gained the ability to advocate for gender justice and women's rights, developed communication and leadership skills, and strengthened my self-confidence".
This experience proved to be another turning point as he was introduced to the systemic barriers that women in Palestine face in accessing justice and the many forms of violence they endure.
"With each passing day, my passion for defending human and women's rights grew stronger," Huthayfa said. "I began to overcome the social barriers and limitations associated with the surrounding customs and traditions. My family was very supportive and helped me overcome my path's cultural and religious obstacles."
In 2022, Huthayfa was one of 380 young lawyers, 28 per cent of them women, who embarked on the Palestinian Bar Association's training programme, supported by the Sawasya joint programme through UN Women.
Throughout 2022, the programme offered training activities to around 1,350 lawyers-in-training, including Huthayfa. Apart from legal assistance, the programme also supported several lawyers in their efforts to defend human rights and assist vulnerable groups in Gaza, particularly women.
As Huthayfa grew more knowledgeable about gender justice, his outlook on his sisters' rights to education, work, and freedom of travel shifted, and he began to advocate for these rights openly in his community. He has since become a vocal supporter of these rights and encourages others to challenge their beliefs and embrace new ideas.
Huthayfa's transformation is not short of inspiration.
"I can never forget how much this experience has changed me. I went from being a young man who was afraid to approach a female colleague to a young lawyer who believes in gender justice and advocates for women's participation in all fields," he said. "I am grateful for the collaboration and support I received from my colleagues, including the lawyers and project leadership, who provided me with the information and expertise I needed to succeed."
Despite growing up in a conservative environment that held traditional views on gender roles and interactions, Huthayfa's journey with Sawasya has led to the moment of a profound transformation in his understanding and acceptance of gender-related issues on a personal and not only professional level. Through his work defending human rights and seeking justice for marginalized communities, he has come to recognize the critical importance of elevating women's voices and experiences. This journey has not been easy, but through perseverance and a willingness to challenge his own beliefs, Huthayfa has emerged as a powerful advocate for gender equality in the legal profession and beyond.