In the words of Noura Sahili: "After the Beirut explosion, women lost their sense of safety. We have been working to help them regain it"
Date: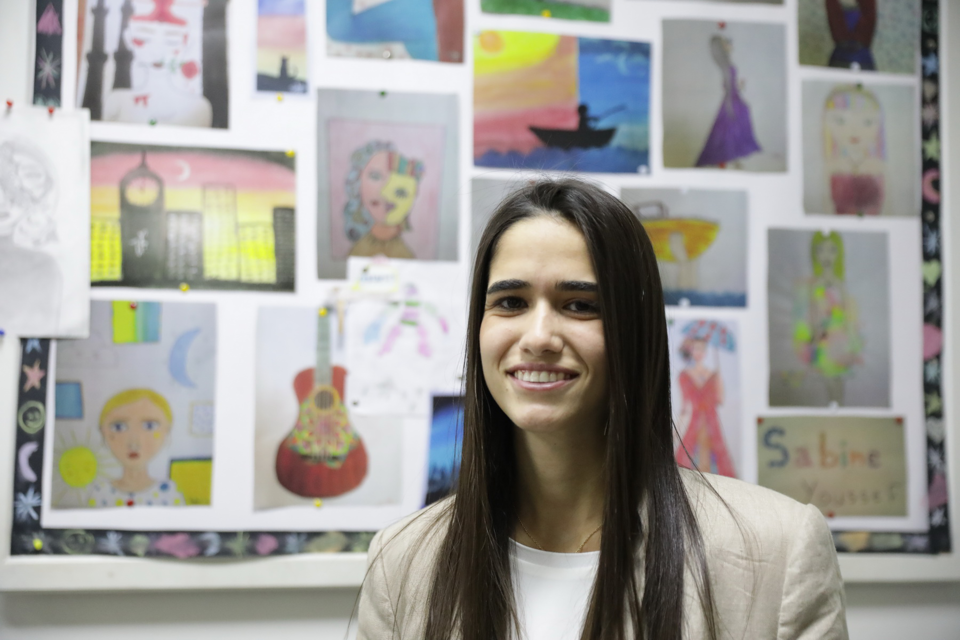 Noura Sahili, 26, is a Lebanese psychotherapist supporting women and girls to overcome the trauma of the Beirut Port explosion. She was one of 18 psychotherapists deployed just two days after the blast to an emergency relief tent set up by local NGO Restart Center for Rehabilitation of Victims of Torture and Violence, in partnership with UN Women, to provide psychosocial support, first aid, food and hygiene kits to those affected by the explosion.
I was struck by the needs of the people who approached us at Restart Center's emergency relief tent in Mar Mikhael.
Women, men and children would come to the tent to describe the destruction they had witnessed. We listened to them, validated their emotions, and provided therapeutic solutions to help them process their trauma. In some cases, listening was all that was needed. For the more severe cases, we continued to provide support beyond the initial emergency phases or began support months after the explosion itself. Many of these cases involved young children who required a holistic approach to therapy that included their parents.
As one example, last February a mother asked for psychological support for her 5-year-old daughter who had developed what she was concerned was dangerous behaviors after the blast. The girl would wet herself, stand on the tip of the window or balcony without seemingly being aware of the risk of falling, and had turned aggressive and hyperactive. The family lived in Bourj Hammoud, 3.6 km away from the port. When the mother first approached us, she thought her daughter would never get better, and she blamed herself for her daughter's troubles.
I worked directly with both the mother and the child at the center and remotely. The mother could not believe the progress her daughter ultimately made. Now, the little girl says she feels safe again, and she has also been teaching her 3-year-old sister to overcome her fears. The mother stopped blaming herself for her daughter's distress and has learned to better support her family through creating a safe space within the household.
In doing work like this, our aim is to ensure that people have a safe space to express themselves, regain reassurance and validate their feelings, through psychotherapy, speech therapy, and other therapeutic assistance. From my experience, women tend to seek therapy more because men are not as accustomed to acknowledging emotions.
As Lebanon suffers from multidimensional crises, the Beirut Blast has only intensified distress among the population, with many seeking psychological support to express their concerns. Women patients often tell me that since they live in a patriarchal society; they cannot speak or act freely.
Therapy is not just about somebody listening but also about learning. When you learn and are able to acknowledge your pain and what triggers it, you can become proud of yourself, and that is when you start to heal.
In doing this work we support women to stand up for their rights; how to talk without getting hurt and how to seek help without being put in danger. After the blast, women lost their sense of safety. Restart made sure that women who visited the emergency tent or the center were heard and that their problems were addressed in total confidence.
It makes me proud to make a difference in people's lives, especially children. One little girl who I supported told me that she wants to become a therapist, like me, and has even started giving group therapy to her siblings. This is why I keep doing this work."
The emergency tent and psychosocial support provided by the Restart center were supported under the UN Women, UNDP and OHCHR "Dealing with the Past" project. The established tent provided psycho-social and mental health care to 247 women, men and children affected by the Beirut Port blast, for a period of 18 months. The project is generously supported by the United Nations Peacebuilding Fund (PBF).