From where I stand: "I want to leave a significant imprint in the society"
Date:
Roa'a Al-Fased, 14, is a member of the girls' administrative board of Toward a Better Tomorrow Association (Nagat), a community-based organization that supports vulnerable women and girls in East Amman and Mafraq to access sexual and reproductive health services, while raising awareness on gender-based violence, with the support of the Women's Peace and Humanitarian Fund.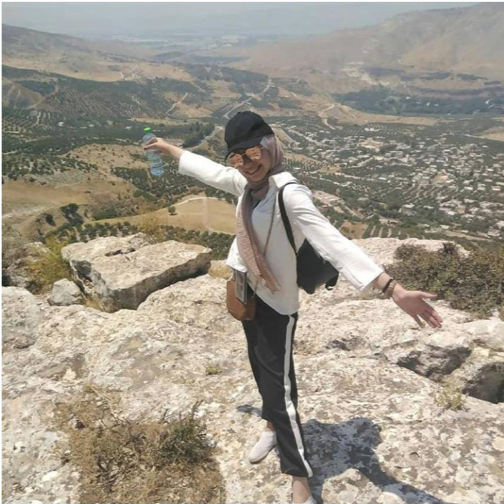 The COVID-19 pandemic affected all girls my age. We were confined at home, and we witnessed an increase of cases of domestic violence. Education levels also declined; I know many girls who were unable to attend classes.
I'm a member of the independent administrative board for young girls at Toward a Better Tomorrow Association (Nagat), where I contribute to the design of initiatives and programs to empower adolescent girls in my community.
I believe girls have a role to play in changing the society. The reality I live in and my interest in public work inspired me to become an active member of the community. Through my work, I'm supporting other girls, particularly refugees and those affected by the pandemic, to learn new skills and to unleash their potential.
I strongly believe my duty is to help those in need by sharing my knowledge and expertise. I took part in the development of education opportunities, trainings, as well as awareness raising sessions on hygiene, health issues, and gender-based violence. My goal is to establish a training center for girls in my community.
This summer, I'm taking part in a training-of-trainers aimed at building the capacity of my peers in all regions of East Amman on issues related to self-knowledge, communication skills, girls' empowerment, and gender equality.
This work is important to me because I like to learn new things, engaging in new and diverse experiences. I want to leave a significant imprint in the society. My message to all girls my age is to become pioneers in their communities, to learn and enjoy, so that we can work together, hand in hand, in building a society that empowers the most vulnerable women and girls."