[Report Launch] Reflecting One Year Later: Lebanon's Shadow Pandemic
Date: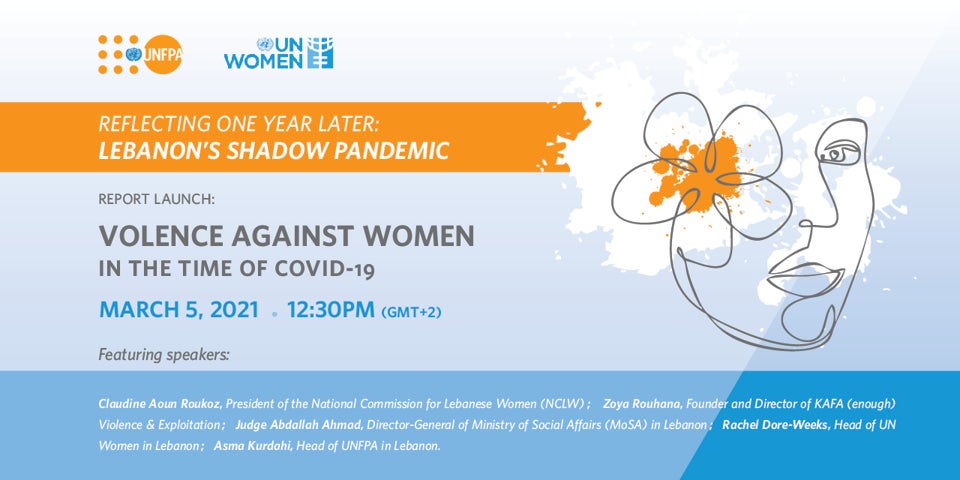 Since the first COVID-19 case was detected in in Lebanon in February 2020, the shadow pandemic of violence that has run parallel against women has yet to flatten its curve. Evidence across the country indicates that the risks have soared, along with call volumes on domestic violence hotlines, with strong indications of increased prevalence and severity. 
 
In May 2020, UN Women and UNFPA undertook primary data collection around issues of violence against women (VAW), surveying over 1500 people across the country to understand trends and attitudes during the early COVID-19 lockdown measures in Lebanon. 
 
UN Women and UNFPA are co-hosting a webinar on March 5 to launch the report, present new findings, as well as reflect on the #ShadowPandemic one year later: how have survivors' of domestic violence been affected and supported during Lebanon's COVID-19 response? What do women want and need, and what actions must be prioritized in 2021?
Date: Friday, March 5, 2021
Time: 12.30pm – 2pm (Beirut/ GMT+2)
Attendees must register in advance via this link:
https://unwomen.zoom.us/webinar/register/WN_hsEtIbkNS-6QJXOb1xiOdg
After registering, you will receive a confirmation email containing information about joining the meeting.
Agenda* (to be finalized):
Presentation of findings
Reflections from Experts
Q&A and interactive discussion
* The event will include Arabic language interpretation. 
Featuring speakers: