Take five: "Youth have a great role to play in preventing violence and we can work to promote gender justice"
Date: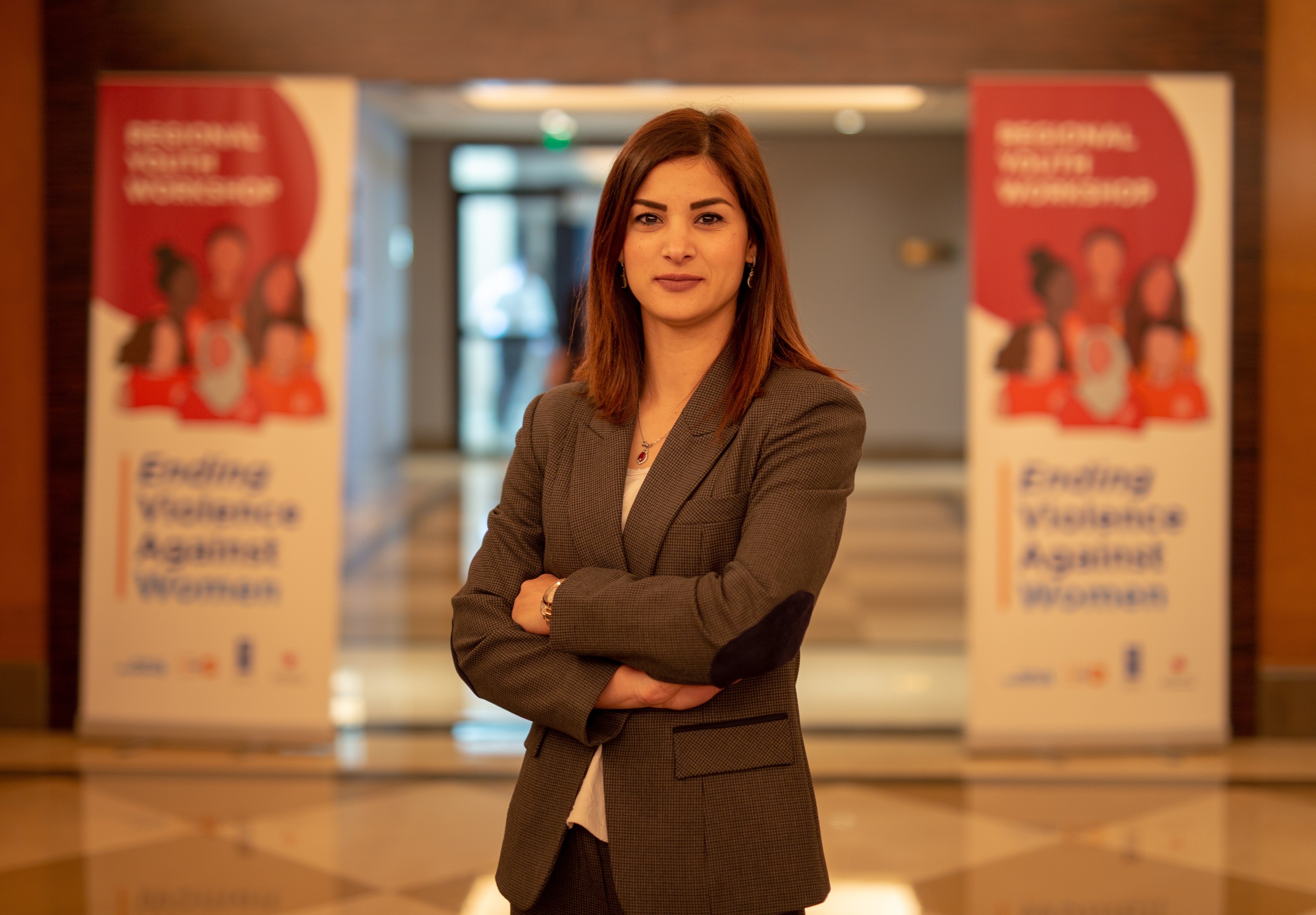 Amani Aruri, a Palestinian national, currently serves as Advocacy Team Leader at the Women's Center for Legal Aid and Counselling, in Ramallah, Palestine. She was elected to the Youth Local Council of Eastern Bani Zaid and served as the Ambassador of the Leaders for Democracy Programme in Palestine. During the October 2018 Women, Peace and Security Week in New York, an annual event to celebrate the anniversary of UN Security Council Resolution 1325 on WPS, she was chosen as one of three young women from countries experiencing conflict to speak about young women, peace and security, and shared her experience as a peacebuilder. Amani attended the Regional Youth Workshop on Ending Violence Against Women and Girls in the Arab States generously supported by the Government of Japan. She is a member of UN Women's Youth Gender Innovation Agora.
What do you think is the role of youth in ending violence against women and girls?
Young people can be powerful agents of social change. We have the desire and the capacity to transform social and political structures and are looking for opportunities to do so. Youth have a great role to play in preventing violence and we can work to promote gender justice. Youth engagement and leadership is imperative for accelerating and sustaining progress on preventing and ending violence against women and girls. Prevention must start at the early stage of life through promoting respectful relationships and transforming the social norms in which gender-based violence and discrimination is rooted. In particular, engaging young men and boys in the prevention of violence against women and girls is critical. They have the ability to question outdated thinking about gender roles and establish respectful relationships promoting gender equality.
What can be done to enhance the role of young people in ending violence against women and building peace?
There is a need to empower youth. We need to invest in their skills and capacities to achieve peace and justice, and to end all forms of violence, especially against women and girls. Youth activists have the energy and time to transform behaviors but need to have access to funds at the local level to increase their capacity to propose and implement concrete and practical solutions. National Action Plans (NAPs) must reflect the youth's perspectives and be innovative to end violence against women and girls by explicitly recognizing their important roles in leading the change. NAPs also need to reference young people and champion the powerful role they can play in building peace, preventing conflict, advocating and advancing human rights and breaking the cycles of violence.
As a Gender Agora member, what do you do to advance gender equality and women's empowerment in your country?
I advocate for women's rights under the Israeli occupation and the patriarchal Palestinian society and laws. I lead campaigns (including media campaigns) to hold duty bearers accountable for violations of women's rights on the national and international levels, and to raise awareness on the situation of Palestinian women to urge the wider communities to take actions for change. Being engaged in the international community and using the international and UN mechanisms to highlight the situation of women allowed me to define new ways, strategies and approaches to mobilize stakeholders to improve women's lives, and to highlight their resilience. My work includes working closely with activists, coalitions, human rights and women rights organizations, politicians, policy makers, international organizations and so on. I led several campaigns that aimed to influence policy makers to amend discriminatory laws and regulations, and to pass laws on ending violence against women and girls. I also deliver trainings for different groups of activists on gender equality and ending gender-based violence.
What actions/measures do you think need to be prioritized to end violence against women in the region?
Many actions need to be implemented to end violence against women and girls, notably: aligning all laws and legislations with the Convention on the Elimination of All Forms of Discrimination Against Women (CEDAW), in particular the penal code, personal status laws and family protection laws, increasing budget allocation for women's machineries and ensure gender-responsive budgeting, mainstreaming gender within school curricula so that elements of gender discrimination is not inherently written into school books and syllabus. Similarly, provide gender sensitization training to educators so that discriminatory stereotypes are not perpetuated in the classroom, improving the referral systems for survivors for better technical solutions and procedures to make the process easier, quicker, more transparent, more equitable and less costly, engaging men and boys in, programs, policies and advocacy campaigns, providing safe spaces for youth and recognize their role in ending violence against women and girls and building a better coordination system between local organizations, governments, and international organizations to avoid duplication and fragmentation of efforts.
What are your impressions about the Regional Youth Workshop on Ending Violence against Women and Girls.
This workshop provided the space, proper environment and tools to exchange experiences of youth from the region and to come up with new solutions for the issues of violence against women and girls. It's inspiring and motivating to work with such a great group of young people from different countries, contexts, and backgrounds. This workshop emphasized on the role of the youth to drive the change not only in their countries, but in the Arab States region. What really impressed me is the trust and confidence put into the young people as leaders who have the ability and capacity to initiate positive change through breaking cycles of violence.