In the words of Aisha Altubuly: "Youth can bring bigger influence if we are more empowered and supported"
Date: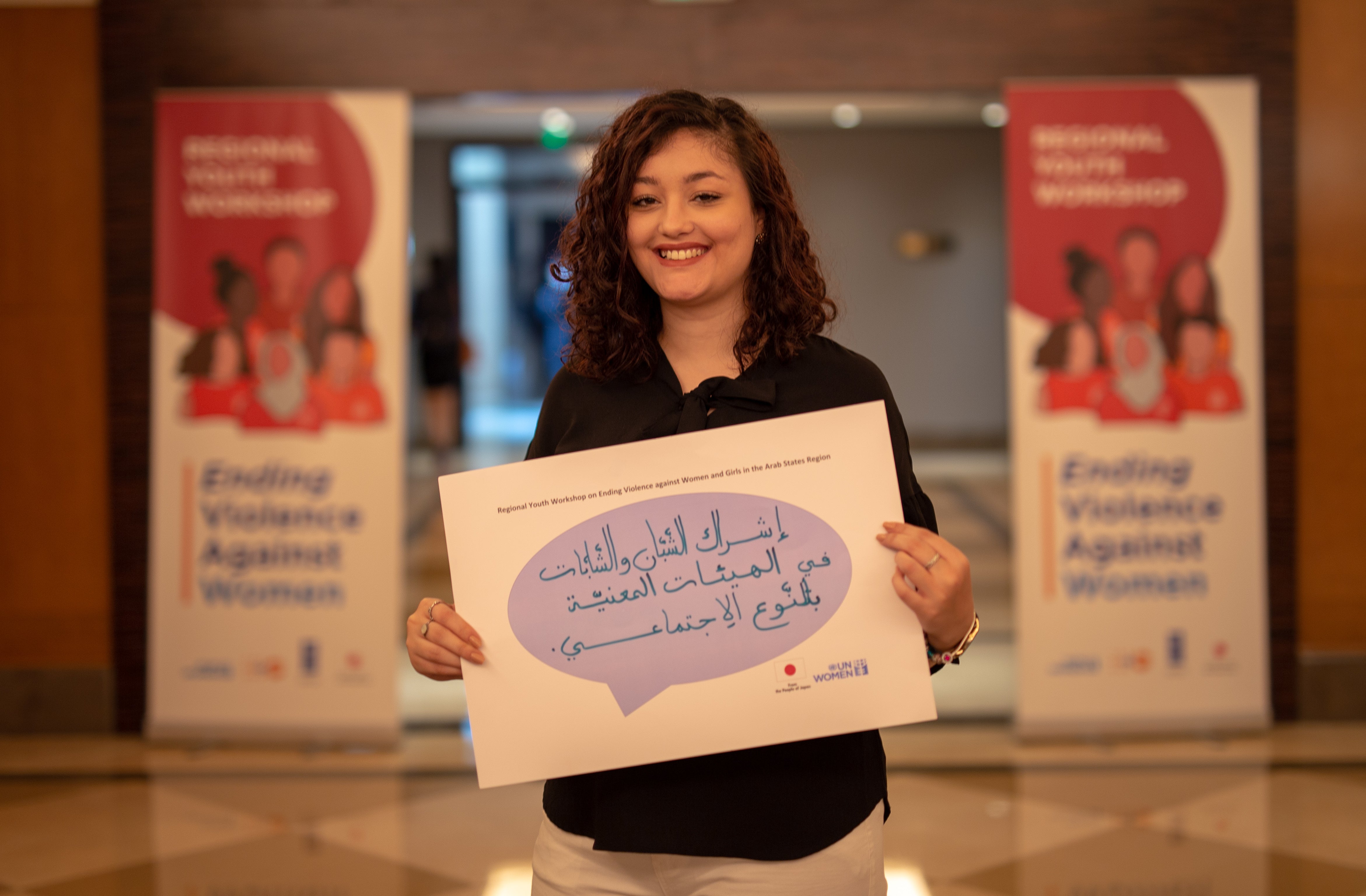 Aisha Altubuly, (22), co-leader and coordinator of the organization Together We Build It (TWBI), based in Tripoli, Libya, has been working on women's issues since she was 15 years old. Through her work, she has developed capacity of youth stakeholders to speak up and address issues in order for women and youth to be empowered to take active roles in decision-making processes within the framework of United Nations Security Council Resolutions (UNSCR) 1325 and 2250. She is currently studying Political Science with a specialization in International Relations and a minor in Public Policy and administration at the American University in Cairo, Egypt. Aisha attended the Regional Youth Workshop on Ending Violence Against Women and Girls in the Arab States generously supported by the Government of Japan. She is a member of UN Women's Youth Gender Innovation Agora.
"I believe that youth can have a crucial role in changing the status quo, and the biggest proof of this is the changes that the youth in the region managed to make in 2011 – the Arab Spring-. Since then, youth have been putting their efforts to influence policies positively. When it comes to violence against women, I have met many young activists who are working to combat this issue whether through advocacy work to influence policy-makers to establish legal grounds for the elimination of gender-based violence or awareness-raising campaigns. Youth can bring even bigger influence if we are more empowered and supported.
In my opinion, the main challenge to end violence against women and girls in the Arab States region is the lack of efficient policies and laws that criminalize violence against women, as well as the lack of effective response mechanisms to assist survivors who take steps to report such crimes.
As a member of the UN Women Youth Gender Innovation Agora and 'Together We Build It', I work on the women and youth, peace and security agenda which includes promoting protection, prevention and meaningful participation. Addressing violence against women and girls is one of the most important topics of our work. We conducted awareness-raising campaigns such as "Super Nsaween" that highlighted different types of violence that women go through every day in Libya. This campaign achieved great success in reaching more than half a million people including youth through intensive social media campaigns during the 16 Days of Activism against Gender-based Violence campaign."