Gender and Intersectionality in Rapid Assessments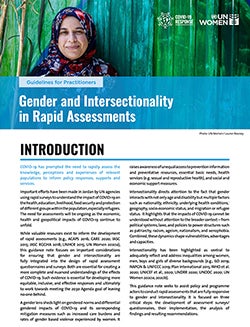 COVID-19 has prompted the need to rapidly assess the knowledge, perceptions and experiences of relevant populations to inform policy responses, supports and services.
Important efforts have been made in Jordan by UN agencies using rapid surveys to understand the impact of COVID-19 on the health, education, livelihood, food security and protection of different groups within the population, especially refugees. The need for assessments will be ongoing as the economic, health and geopolitical impacts of COVID-19 continue to unfold.
This guidance note seeks to assist policy and programme actors to conduct rapid assessments that are fully responsive to gender and intersectionality. It is focused on three critical steps: the development of assessment surveys/questionnaires, their implementation, the analysis of findings and resulting recommendations.
View online/download
Bibliographic information