Impact of COVID-19 on women-led MSME's in Palestine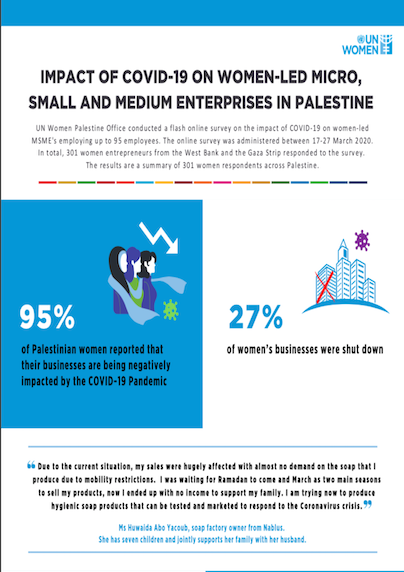 The COVID-19 crisis is likely to have a significant impact on the ability of affected populations to continue to earn the minimum income needed for subsistence. This is especially true amongst the most economically vulnerable communities and in particular female-headed households in Palestine. Many livelihood opportunities that women rely on will be at risk due to movement restrictions and government response strategies, these small business owners and small-holder farmers (predominantly women) are likely to face challenges in accessing markets due to travel restrictions. Cross border traders, often women, will be unable to continue their trade activities as borders are closed. Informal sector will also be at risk of disrupted livelihood activities that will negatively impact their subsistence.
Amidst the COVID-19 pandemic, UN Women Palestine Office conducted a flash online survey on the impact of COVID-19 on women-led MSME's employing up to 95 employees. The online survey was administered between 17-27 March 2020. In total, 301 women entrepreneurs from the West Bank and Gaza responded to the survey. The infographic report shows a summary of 301 women respondents across Palestine.
View online/download
Order printed/published version
Languages available in print
English; Arabic
Bibliographic information
UN Women office publishing: Palestine Country Office