A Lebanese expert grabs the wheel to drive the energy initiative of change
Date:
Carol Ayat is an energy finance professional, an investment banker, and a Senior Fellow at The American University of Beirut (AUB) Issam Fares Institute for Public Policy and International Affairs (IFI). She is on the board of the Lebanese Oil and Gas Initiative "LOGI" and advocates for producing electricity in a sustainable way. She believes green energy is about creating an ecosystem and improving the well-being of citizens. Providing renewable energy alternatives is necessary as it is cleaner, cheaper, and more secure– but governments will need to set policy and make certain investments early to drive change.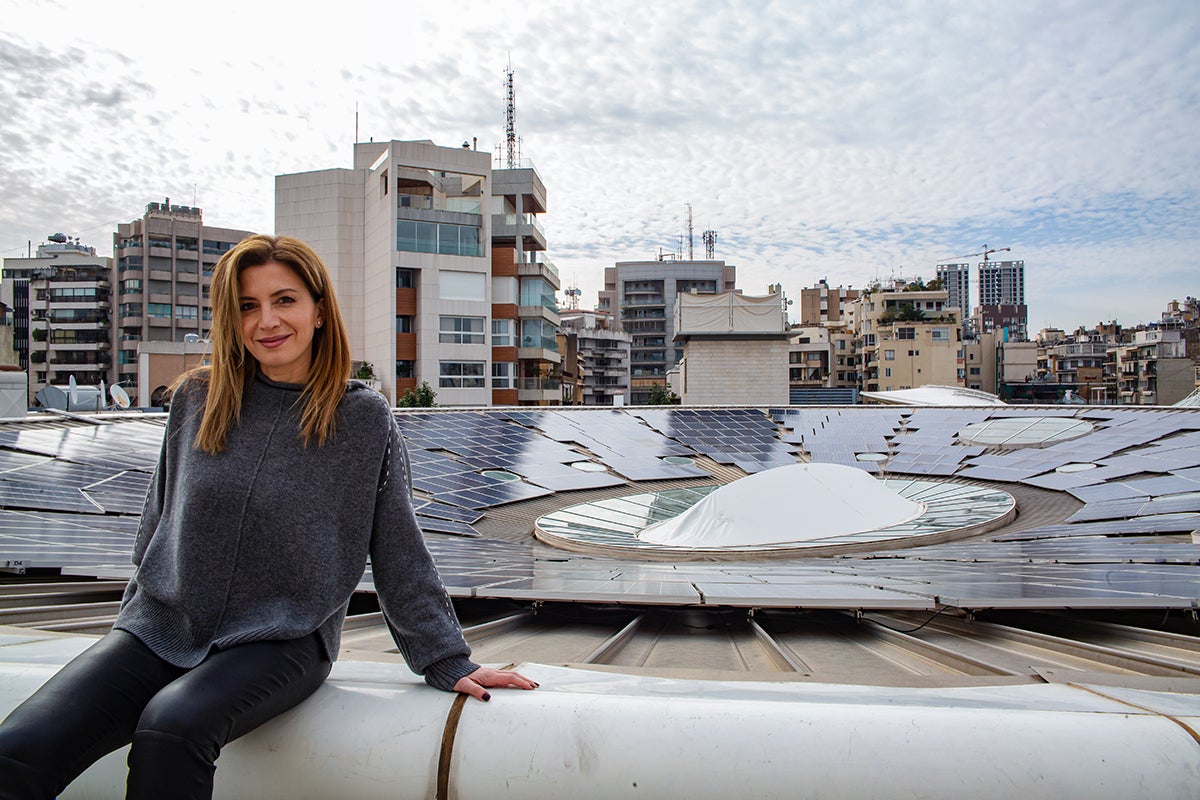 Carol Ayat earned an MA in Financial Economics and a BA in Economics from AUB and worked in investment banking in Lebanon and abroad. She joined a leading bank and set up the energy finance department where she got the opportunity to work on renewable energy projects in the countries of operations notably Turkey and Lebanon. "I was driven to find innovative and eco-friendly solutions for the long-lasting problem of electricity in Lebanon too, and to advocate for renewable energy projects," she says.
Ayat is involved in public policy discussions on energy and believes that finding an alternative to fuel-based electricity by resorting to natural resources improves finances, the environment and fortifies national security. "In Lebanon, the heavy reliance on fossil fuels for electricity production has had a detrimental impact on public finances and our balance of payments; and lately we faced shortages of fossil fuels which threatened energy security. Energy security - the association between national security and the availability of natural resources for energy consumption - is critical for any country to become more energy independent from foreign countries."
Electricite du Liban (EDL) - the public utility which controls 90% of the country's electricity production needs to turn green. Ayat and her team worked on arranging the financing for the first utility-scale renewable energy projects (wind and solar) in Lebanon by collaborating closely with development banks since 2017. "We faced technical, financial, legal, and regulatory obstacles. The development banks had a long list of reform requirements from EDL: rebalancing financials, improving governance, fixing the grid, and getting baseload electricity. Reforms are urgently needed to allow the private sector to move forward with such projects. We finally received financial approvals to proceed with the projects in 2019, but it was put on hold after the start of the crisis."
Ayat believes that following the current financial crisis, an International Monetary Fund (IMF) programme is the only way to get private funding for renewable energy projects. The electricity reform is one of the prerequisites to secure the IMF recovery plan. As part of the Issam Fares Institute, she conducts research and studies with peers and experts to provide ideas and solutions for the electricity sector. She says the 'Bridging the Banking Sector Crisis to Crowdfund Electricity Reform in Lebanon' study that was published in October 2021 provides an out-of-the-box comprehensive solution to the electricity sector across generation, transmission, and distribution. With the recent collapse of EDL, unfortunately, the private generators are providing up to 18 hours of electricity per day. This has led to a heavy rise in pollution levels which negatively impact the health of the Lebanese people."
Ayat is also on the board of the Lebanese Oil and Gas Initiative (LOGI), an independent NGO founded in 2015 aiming to raise awareness, transparency, and accountability around Lebanon's oil and gas sector. "Over the last seven years, LOGI has established itself as an independent and trusted player that has managed to improve the laws for the oil and gas sector while promoting transparency and accountability. I joined the board to help LOGI broaden its mission to also cover the electricity sector and support the energy transition. The shift will not happen tomorrow, but we need to start building the basis to allow it to happen as fast as possible, and this includes using natural gas in conjunction with renewables as a bridge fuel."
Electricity is critical to modern economic activity and is an essential input to many public services. Ayat notes:
"Energy poverty unfortunately impacts more women than men, therefore as women, we need to have an active role in shaping energy public policy."
With the diesel shortage, the benefits of renewable energy have become undeniable. Today, renewable energy is the cheapest, cleanest, most secure, and most reliable form of electricity; whenever there is sun or wind, you can produce electricity. Ayat explains "when you install a solar panel, whether you're a corporate or an individual, your payback period is very short. The time you need to recoup the cost that you have invested is around three years versus a 30-year lifespan for solar panels. In other words, if you install a solar panel today, in three years your electricity will be practically free. Businesses need to understand that renewable energy is much cheaper in the long run".
We have 300 days of sun and excellent wind resources in Lebanon, but we need a legal and regulatory framework to scale up the use of solar panels. Ayat favors decentralized renewable electricity at the level of municipalities and the private sector. She says a proposed law on decentralized solar energy is on the government's agenda. "I hope they will push it forward without amendments, to allow the private sector to scale up decentralized renewable energy. We have many resources in Lebanon – sun, wind, water, gas, and especially human capital- but sadly, we are not benefiting from them," she comments.
Climate change is the biggest threat to humanity. It impacts food security, clean water and increases poverty levels and inequality. Ayat believes relying on governmental action is not enough:
"Private sector companies need to join the fight against climate change. There are millions of animals and plant species at risk of extinction. What is the world we want to keep to the future generations? Becoming net zero is no longer sufficient, companies need to become "net positive": to contribute positively to society, the environment, and all stakeholders."
"I don't want my son to live in a world where wildfires, hurricanes, pandemics and floods are becoming more commonplace and destructive. We have seen the impact of climate change in Lebanon, how forest fires are raging, and natural resources are lost. We all have a duty to act on climate change," she concludes.