Take Five: "We should all aim to eliminate violence against women and girls"
Date: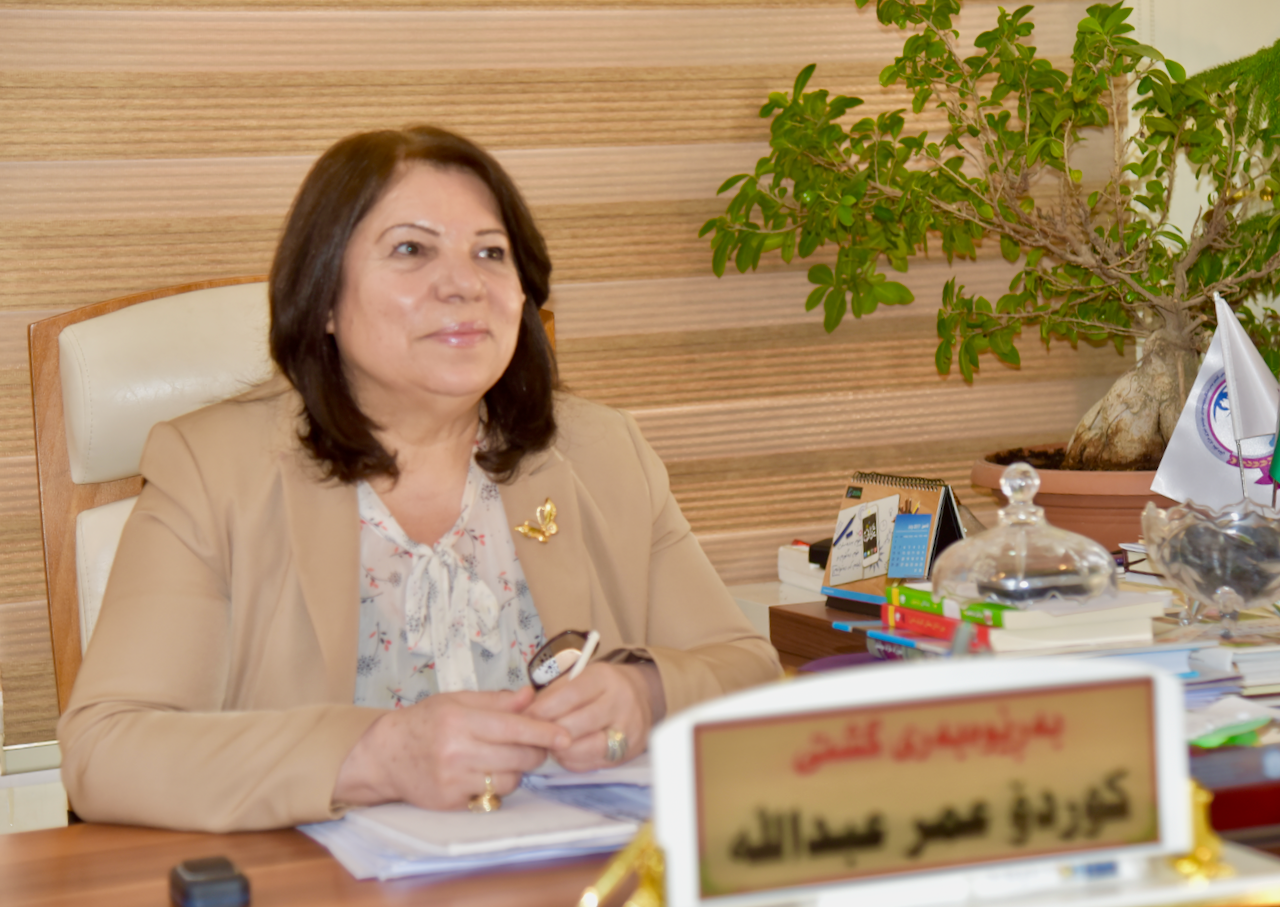 Ms. Kurdo Omar is the head of the General Directorate of Combating Violence against Women (DCVAW) at the Ministry of the Interior in the Kurdistan Regional Government (KRG) in Iraq. DCVAW is currently working with UN Women under the regional programme "Strengthening the Resilience of Syrian Women and Girls and Host Communities in Iraq, Jordan and Turkey"—implemented by UN Women and the European Union under the EU Regional Trust Fund in Response to the Syrian Crisis (the EU MADAD Fund). On the occasion of the upcoming International Day for the Elimination of Violence against Women (November 25), Ms. Kurdo spoke to UN Women about her work.
What is the current situation with regards to violence against women and girls in the Kurdistan region?
We have made some progress in working to combat violence against women (VAW) and girls in Kurdistan. The numbers we have are from 2008; prior to that date, there were no statistics available on the incidence of violence against women. Now, we document all cases of women asking for help. Most of these women come directly to our office to report abuses and this is a positive development compared to a few years ago. Yet, the rate is still high in Kurdistan. In 2017 we had a total of 8,970 claim cases (2,393 cases more than in 2016), 143 cases of sexual violence, 202 of accidental burning, and 122 of suicidal burning. Most of the times the cases of death are related to so-called "honor killings", and the age of death is between 21 and 25 years old.
How has the conflict affected women in Kurdistan?
In the Kurdistan region about 2,000 men have been killed by ISIS during the liberation operations. Women are now the heads of the household, so they need to sustain their families, while recovering from the diverse impact of conflict on their lives and well-being. An important issue to be addressed is also disabled women who are heads of families. These women count for high numbers and need to be economically empowered too, so they can be integrated in the society to contribute to sustainable peace and development. Yazidi women also have suffered human trafficking, slavery and sexual violence under ISIS.
Why do you think it's important to involve women in peacebuilding?
The Women, Peace and Security agenda is very important because women are deeply affected by war and conflict. They experience conflict in a different way to men, so their different experiences have to be included in the peaceful reconstruction of the country. Women's participation in peacebuilding and decision-making is a necessity and it is in line with the United Nations Security Council Resolution 1325. Women's participation in peacebuilding processes in other countries has proven to lead to a more sustainable peace and to make the reconciliation process smoother. This should be the same for Iraq.
What are the main challenges to end VAW in the Kurdistan region?
The main challenge to end VAW in the region is to ensure effective implementation of the law related to VAW. We are working closely with the new parliament to amend the new law to combat VAW, so it can be implemented more efficiently, and we continue to campaign with different UN Agencies to raise awareness on these issues. Also, in some cases the law is not fully implemented; accused perpetrators are frequently found not guilty, or are not arrested. The second challenge to end VAW is to raise awareness about it among the community, as we are operating in a region where cultural practices are difficult to modify. Finally, we face financial challenges. Without the support of UN agencies, such as UN Women, we would have to close as we are a new institution. We should all aim not to reduce violence against women, but to eliminate it, and to advance women's rights in general.
What are the main activities under the MADAD programme and how do you plan to implement them?
We are partnering with UN Women under the MADAD programme to fill the gaps we have identified in Gender-Based Violence (GBV) prevention. The programme seeks to ensure that women (displaced, refugee and host country nationals) have increased access to comprehensive essential services, particularly in women-only centers, to prevent and respond to GBV. To reach this goal, we will work on building the capacity of DCVAW staff to become trainers on women's self-defense and GBV awareness-raising. This will consist of six months' trainings through a local implementing partner. As part of our GBV prevention activities, we will also provide different self-defense trainings to women and girls beneficiaries in universities and schools.
The regional programme "Strengthening the Resilience of Syrian Women and Girls and Host Communities in Iraq, Jordan and Turkey" is funded by the European Union Regional Trust Fund in Response to the Syrian Crisis.