Advocacy Note: 4 Priority Actions for Gender Equality in the Humanitarian Response in the Gaza Strip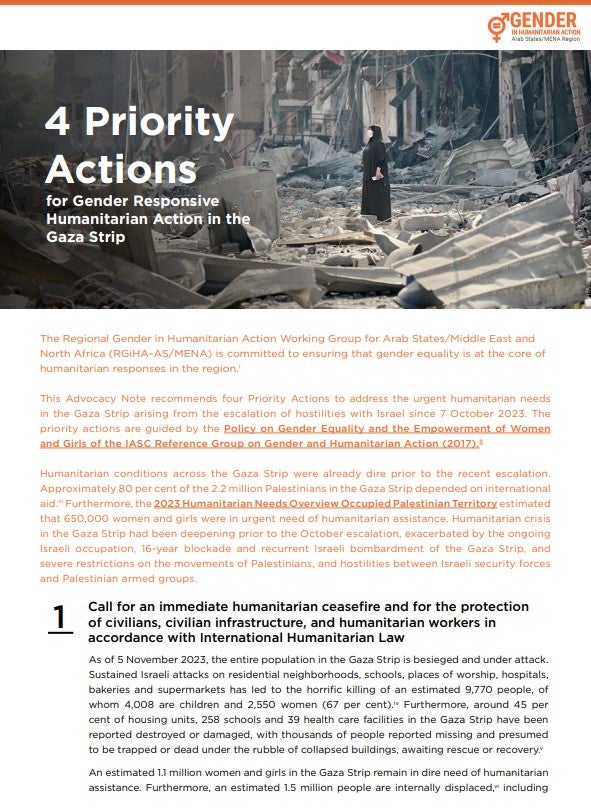 The Regional Gender in Humanitarian Action Working Group for Arab States/Middle East and North Africa (RGiHA – AS/MENA) is committed to ensuring that gender equality is at the core of humanitarian responses in the region.
This Advocacy Note recommends four Priority Actions to address the urgent humanitarian needs in the Gaza Strip arising from the escalation of hostilities with Israel since 7 October 2023. The priority actions are guided by the Policy on Gender Equality and the Empowerment of Women and Girls of the IASC Reference Group on Gender and Humanitarian Action (2017).
Humanitarian conditions across the Gaza Strip were already dire prior to the recent escalation. Approximately 80 per cent of the 2.2 million Palestinians in the Gaza Strip depended on international aid. Furthermore, the 2023 Humanitarian Needs Overview Occupied Palestinian Territory estimated that 650,000 women and girls were in urgent need of humanitarian assistance. Humanitarian crisis in the Gaza Strip had been deepening prior to the October escalation, exacerbated by the ongoing Israeli occupation, 16-year social and economic blockade and recurrent Israeli bombardment of the Gaza Strip, and severe restrictions on the movements of Palestinians, and hostilities between Israeli security forces and Palestinian armed groups.
View online/download
Bibliographic information