A Gender Response to COVID-19 in Iraq: A Guidance Note on Actors' Engagement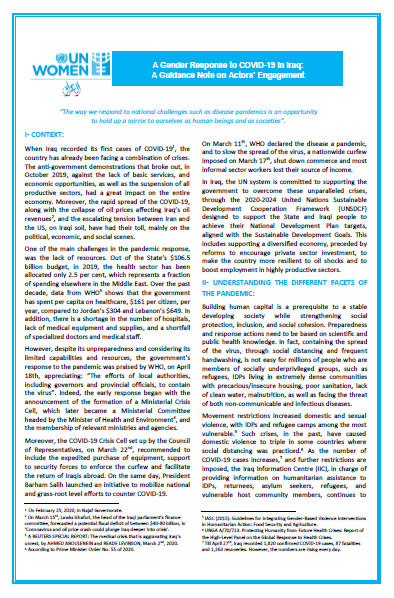 When Iraq recorded its first cases of COVID-191, the country has already been facing a combination of crises. The anti-government demonstrations that broke out, in October 2019, against the lack of basic services, and economic opportunities, as well as the suspension of all productive sectors, had a great impact on the entire economy. Moreover, the rapid spread of the COVID-19, along with the collapse of oil prices affecting Iraq's oil revenues2, and the escalating tension between Iran and the US, on Iraqi soil, have had their toll, mainly on the political, economic, and social scenes.
In Iraq, the UN system is committed to supporting the government to overcome these unparalleled crises, through the 2020-2024 United Nations Sustainable Development Cooperation Framework (UNSDCF) designed to support the State and Iraqi people to achieve their National Development Plan targets, aligned with the Sustainable Development Goals. This includes supporting a diversified economy, preceded by reforms to encourage private sector investment, to make the country more resilient to oil shocks and to boost employment in highly productive sectors.
View online/download
Bibliographic information
Geographic coverage:
Iraq