Syrian women come together to create a common framework for their movement
Date: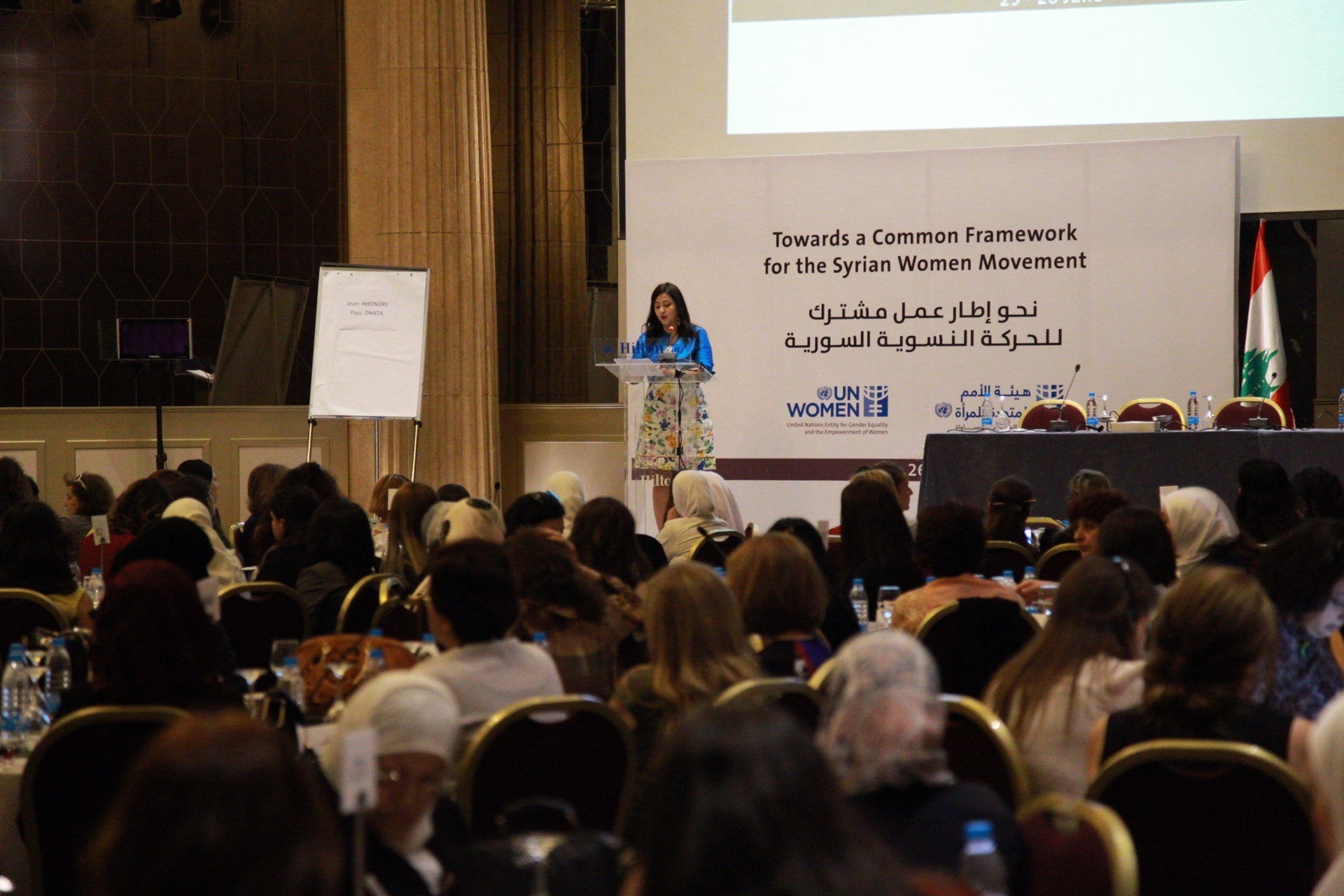 Beirut. - On June 25 – 26, June 2018, almost 200 Syrian women leaders met in Beirut, Lebanon, to discuss ways to safeguard and advance women's rights in Syria, as part of a conference titled, "Toward a Framework for the Syrian Women Movement". The conference was grounded on UN Women's ongoing advocacy and coalition-building work with Syrian women leaders and activists.
Despite their significant differences and diverse backgrounds across political, ideological and geographic spectrum, the participants identified some key elements for a common framework for the Syrian women's movement.
The discussions were informed by a series of consultations among women leaders in Syria and in the neighbouring countries. Participants included Syrian women leaders and gender advocates living in Syria, as well as those in the neighbouring countries and the diaspora, including members of the Women's Advisory Board to the UN Special Envoy for Syria.
Speaking at the conference, Mohammad Naciri, Regional Director of UN Women in the Arab States said: "I am inspired to be in a room full of leaders who have made the decision to come together, across the political and ideological divides, to discuss a unifying common ground, it is no easy feat, and one that will not be done overnight, but you are here, taking the first steps, for the future of your Syria."
In the two-day conference, the participants discussed shared priorities relating to legislative, political, security and safety, social, and economic issues.
As one of the participants highlighted: "We are here to voice our pains and pinpoint what we share. I shouldn't forget that others have pain and I have my own pain as well."
"The title of this conference, "Towards a Common Framework for the Syrian Women Movement", places a huge challenge before us to transcend divisions and work together as one women's movement and a unified block of influence to safeguard women's hard earned rights and advance them," said Hiba Qasas, Chief of Humanitarian Action and Crisis Response in Geneva, UN Women.
"We have worked for decades to advance our rights as women in Syria. We cannot afford compromises to our rights in the future of Syria" said one participating Syrian women civil society leader.
The meeting identified some undisputable common priorities of Syrian women such as women's meaningful participation and influence in the political process and constitutional committee, addressing the distinct rights and vulnerabilities women have, as well as leveraging their leadership across legislative, political, security and safety, and the economic spectrum.
These priorities will be further developed and defined in consultations with diverse constituencies with clear steps for action to build a strong and cohesive Syrian women's movement.
The conflict in Syria is in its eighth year and has left an estimated 13.1 million[1] people currently in need of humanitarian assistance. The crisis has devastating and specific consequences for women and girls. From food insecurity to loss of education opportunities, lack of safe water supply or health services, and high prevalence of early marriage and gender-based violence, women and girls are at the frontlines of the crisis.
[1] Global Humanitarian Overview 2018 - June Status Report. June 19, 2018. UN OCHA.