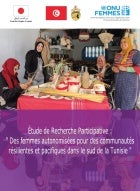 L'étude de recherche participative vient répondre aux questions suivantes: Quels sont les besoins des femmes et des jeunes filles au sud Tunisien? Quel est leur rôle dans la cohésion sociale et quelles sont les opportunités économiques pour elles? Elle vient proposer des pistes de solutions pour renforcer l'autonomisation des femmes et leur potentiel de résilience et leur rôle dans la cohésion sociale pour la prévention de l'extrémisme violent.
Gender equality cannot be achieved in Lebanon without dismantling the kafala system and creating legal protections for domestic workers. Women make up an estimated 76 per cent of all migrant workers and 99 per cent of migrant domestic workers who come to Lebanon for employment.
Are we on track to achieve gender equality and the empowerment of women and girls? This report brings together the latest available evidence on gender equality across all 17 Sustainable Development Goals, underscoring the progress made as well as the action still needed to accelerate progress.