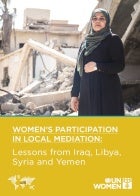 UN Women's new report "Women's Participation in Local Mediation: Lessons from Iraq, Libya, Syria, Yemen" sheds light on the diverse mediation roles women have played to resolve conflict and restore social cohesion in their communities.
Palestine's Second National Action Plan for the implementation of United Nations Security Council Resolution 1325 (UNSCR 1325) on Women, Peace and Security and Subsequent Resolutions follows the first National Action Plan adopted in 2016 recognizing the disproportionate impact of conflict and occupation on Palestinian women and girls and their vital participation in peacebuilding.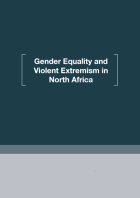 With support from the UK Government, UN Women Regional Office for the Arab States has been working since 2017 to deliver better evidence through quality research on gender equality, masculinities and violent extremism in North Africa to inform regional and global policy-making on the prevention of violent extremism (PVE) and Women, Peace and Security.