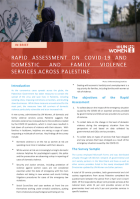 This brief suggests that domestic violence has increased in Palestine due to the conditions created by the COVID 19 pandemic, which in most cases resulted in a lockdown of survivors of violence with their abusers. With families in lockdown, helplines are seeing a surge of cases requesting a multitude of services.
The 'Year of Egyptian Women' has opened a historical window of opportunity for the advancement of gender equality and women's empowerment (GEWE) in Egypt. The launch of the National Women's Empowerment Strategy (2017-2030) has firmed the political commitment towards realizing women's political, economic and social rights as granted by the Constitution. The ambitious goals and targets do not only place women's empowerment as a prerequisite for achieving gender...
The Global Guidance, developed by UN Women and UNESCO, provides key information to governments, policy-makers, teachers, practitioners and civil society who wish to take concrete action against school-related gender-based violence. It introduces approaches, methodologies, tools and resources that have shown positive results in preventing and responding to gender-based violence in schools settings. It should contribute to further promote the generation of knowledge, evidence and standards of response against this pervasive problem.