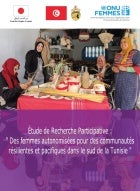 L'étude de recherche participative vient répondre aux questions suivantes: Quels sont les besoins des femmes et des jeunes filles au sud Tunisien? Quel est leur rôle dans la cohésion sociale et quelles sont les opportunités économiques pour elles? Elle vient proposer des pistes de solutions pour renforcer l'autonomisation des femmes et leur potentiel de résilience et leur rôle dans la cohésion sociale pour la prévention de l'extrémisme violent.
This newsletter captures the latest updates on the implementation of the Women's Peace and Humanitarian Fund (WPHF) in Lebanon. The newsletter includes the key highlights and achievements of the WPHF programme partners' towards enhancing women's participation in the Beirut Port Explosion's response and recovery process.
With many businesses struggling to survive as a consequence of the coronavirus disease (COVID-19) outbreak, loss of jobs and income and rising working poverty are a reality for many workers. This document offers (interim) recommendations for employers to mitigate the negative consequences stemming from COVID-19.