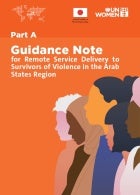 This toolkit is designed to support women-led civil society organisations (CSOs) in the Arab States region to strengthen their capacity to deliver remote services to survivors of violence against women and girls (VAWG).
This newsletter captures the latest updates on the implementation of the Women's Peace and Humanitarian Fund (WPHF) in Lebanon. The newsletter includes the key highlights and achievements of the WPHF programme partners' towards enhancing women's participation in the Beirut Port Explosion's response and recovery process.
This brief explores the implications for the provision of essential services for women and girls who have experienced violence during the COVID-19 pandemic. It provides recommendations for governments, civil society, and international organizations that are seeking to improve the quality of and access to coordinated health, police and justice, and social services for all women and girls during the crisis and provides examples of promising practices to date.