This Policy Brief highlights the impact of COVID-19 on persons with disabilities and in doing so, outlines key actions and recommendations to make the response and recovery inclusive of persons with disabilities. While the brief contains specific recommendations focusing on key sectors, it identifies four overarching areas of action that are applicable for all.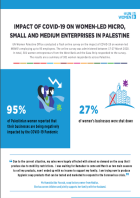 Amidst the COVID-19 pandemic, UN Women Palestine Office conducted a flash online survey on the impact of COVID-19 on women-led MSME's employing up to 95 employees. The online survey was administered between 17-27 March 2020. In total, 301 women entrepreneurs from the West Bank and Gaza responded to the survey. The infographic report shows a summary of 301 women respondents across Palestine.
This publication addresses the key areas of engagement for UN Women to strengthen its work on the empowerment of women and girls with disabilities.