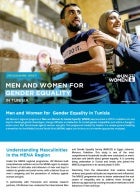 This brief presents a short description of the running programme "Men and Women for Gender Equality" in Tunisia, that seeks to mobilize men and boys to challenge gender stereotypes, change attitudes and behaviors to combat gender inequalities, and entice a change in social norms that discriminate against women and girls.
This brief provides evidence of the different ways in which women's rights organizations have been affected by the COVID-19 pandemic, highlighting the predicament that many of them face of increased relevance and demand at the same time as civic closure, restrictive work conditions, and diminishing funding.
This assessment developed by UNW, UNHCR, WFP and UNICEF demonstrate gender inequalities across the Syrian refugee population, limiting access, rights and opportunities for women and girls, particularly as related to economic participation, education, food insecurity, humanitarian assistance, legal issues, and wider protections, including sexual and gender-based violence.