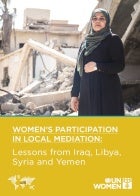 UN Women's new report "Women's Participation in Local Mediation: Lessons from Iraq, Libya, Syria, Yemen" sheds light on the diverse mediation roles women have played to resolve conflict and restore social cohesion in their communities.
This report on the proceedings of the global conference "Gender-inclusive peace processes: Strengthening women's meaningful participation through constituency building" explores current challenges, best practices, and recommendations on how best to leverage the practice of constituency building to further gender-inclusive peace.
This report on the proceedings of the 2018 conference "Women's meaningful participation in peace processes: Modalities and strategies across tracks", explores innovations, trends, and challenges in the interplay between official, high-level processes and unofficial processes in which civil society plays a leadership role.