This brief presents emerging evidence on the impact of the global COVID-19 pandemic on the care economy. Complementing a separate UN Women brief on COVID-19 and economic recovery, this brief highlights key measures needed to address the increase in unpaid care work as a result of the pandemic, ensure adequate compensation and decent working conditions for paid care workers, and enable the participation of paid and unpaid caregivers in the policy decisions that affect them.
Developed jointly by REACH and UN Women, this report identifies, discusses, and analyses the range of enabling factors and challenges faced by working Jordanian and Syrian refugee women. Generously supported by the European Union, through the EU Regional Trust Fund in response to the Syria Crisis, the EU MADAD Fund, as well as the Governments of France and Japan.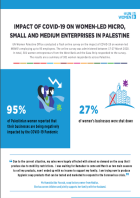 Amidst the COVID-19 pandemic, UN Women Palestine Office conducted a flash online survey on the impact of COVID-19 on women-led MSME's employing up to 95 employees. The online survey was administered between 17-27 March 2020. In total, 301 women entrepreneurs from the West Bank and Gaza responded to the survey. The infographic report shows a summary of 301 women respondents across Palestine.