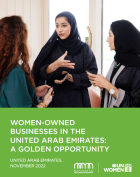 Women-owned businesses (WOBs) in the Middle East and Northern Africa (MENA) region could make significant contributions to entrepreneurial activity and countries' economic growth, but face challenges and barriers. This report examines access to finance in the United Arab Emirates for WOBs; describes government and private measures to promote women's entrepreneurship; looks at global best practices and makes recommendations for policymakers and stakeholders to improve women-owned businesses' access to financing.
This publication is produced by Musawah with support from UN Women within the framework of the 'Men and Women for Gender Equality' regional programme funded by Sweden.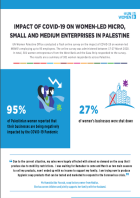 Amidst the COVID-19 pandemic, UN Women Palestine Office conducted a flash online survey on the impact of COVID-19 on women-led MSME's employing up to 95 employees. The online survey was administered between 17-27 March 2020. In total, 301 women entrepreneurs from the West Bank and Gaza responded to the survey. The infographic report shows a summary of 301 women respondents across Palestine.