UN Women conducted its first rapid assessment of the impact. of the COVID-19 pandemic on UN Women Oasis Centre beneficiaries in March 2020, when the first cases of COVID-19 were confirmed in the Hashemite Kingdom of Jordan. Fourteen months into the COVID-19 pandemic...
This assessment developed by UNW, UNHCR, WFP and UNICEF demonstrate gender inequalities across the Syrian refugee population, limiting access, rights and opportunities for women and girls, particularly as related to economic participation, education, food insecurity, humanitarian assistance, legal issues, and wider protections, including sexual and gender-based violence.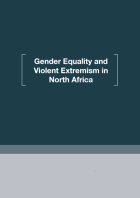 With support from the UK Government, UN Women Regional Office for the Arab States has been working since 2017 to deliver better evidence through quality research on gender equality, masculinities and violent extremism in North Africa to inform regional and global policy-making on the prevention of violent extremism (PVE) and Women, Peace and Security.