Few Syrian refugee and Lebanese women participate in the labour force in Lebanon, often due to critical gender barriers: housework and childcare obligations. This is particularly true for low-income women, who participate in economic activities at lower rates than men and are often unable to afford home help. Inadequate or absent childcare services contribute to women's economic inactivity and serve as barriers that limit women's mobility.
In October 2019, hundreds of thousands of Lebanese people took to the streets to protest the imposition of new taxes and the worsening economic, social and political crises gripping the country.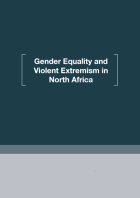 With support from the UK Government, UN Women Regional Office for the Arab States has been working since 2017 to deliver better evidence through quality research on gender equality, masculinities and violent extremism in North Africa to inform regional and global policy-making on the prevention of violent extremism (PVE) and Women, Peace and Security.