This brief explores the implications for the provision of essential services for women and girls who have experienced violence during the COVID-19 pandemic. It provides recommendations for governments, civil society, and international organizations that are seeking to improve the quality of and access to coordinated health, police and justice, and social services for all women and girls during the crisis and provides examples of promising practices to date.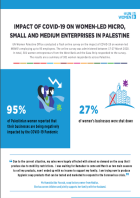 Amidst the COVID-19 pandemic, UN Women Palestine Office conducted a flash online survey on the impact of COVID-19 on women-led MSME's employing up to 95 employees. The online survey was administered between 17-27 March 2020. In total, 301 women entrepreneurs from the West Bank and Gaza responded to the survey. The infographic report shows a summary of 301 women respondents across Palestine.
The Global Guidance, developed by UN Women and UNESCO, provides key information to governments, policy-makers, teachers, practitioners and civil society who wish to take concrete action against school-related gender-based violence. It introduces approaches, methodologies, tools and resources that have shown positive results in preventing and responding to gender-based violence in schools settings. It should contribute to further promote the generation of knowledge, evidence and standards of response against this pervasive problem.