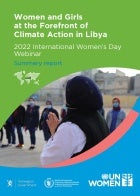 This publication summarizes discussions and recommendations produced during the Webinar organized by UN Women in Libya in celebration of the International Women's Day on 8 March 2022.
This newsletter captures the latest updates on the implementation of the Women's Peace and Humanitarian Fund (WPHF) in Lebanon. The newsletter includes the key highlights and achievements of the WPHF programme partners' towards enhancing women's participation in the Beirut Port Explosion's response and recovery process.
In collaboration with the European Union (EU), UN Women organized a regional partner event to present lessons learned from its programme "Strengthening the Resilience of Syrian Women and Girls and Host Communities in Iraq, Jordan and Turkey" funded through the EU Regional Trust Fund in response to the Syria Crisis, the 'MADAD' fund.