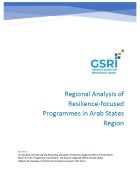 With thanks to the Government of Japan, who generously funded the regional LEAP and COVID-19 programmes as well as the resilience monitoring efforts, UN Women was able to roll-out the gender-sensitive resilience capacity index in 5 countries, namely Egypt, Iraq, Lebanon, Palestine and Yemen, through 11 of its implementing partners.
This brief presents emerging evidence of the COVID-19 pandemic's impact on women's economic empowerment. Complementing a separate UN Women policy brief on "COVID-19 and the care economy", it considers the immediate gendered economic impacts, including widening socioeconomic divides and shifting national and international priorities for the allocation of resources, as well as the long-term implications for women's employment and livelihoods.
With many businesses struggling to survive as a consequence of the coronavirus disease (COVID-19) outbreak, loss of jobs and income and rising working poverty are a reality for many workers. This document offers (interim) recommendations for employers to mitigate the negative consequences stemming from COVID-19.