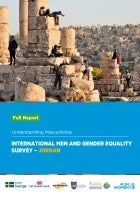 The study surveyed 2,400 Jordanian men and women aged 18-59, from 12 governorates across Jordan, as well as 512 Syrian men and women living in Amman, Zarqa, Irbid and Mafraq. The research also includes a qualitative component that involved 110 men and women who participated in 12 focus group discussions and 17 in-depth interviews.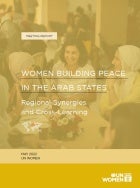 In May 2022, the UN Women Regional Office for Arab States and the Government of Finland organized a two-day workshop titled "Women Building Peace in the Arab States: Regional Synergies and Cross-Learning" to highlight women's mediation efforts in their communities and the lessons learned from interventions under the regional WPS programme and the Syria WPS programme.
This brief highlights key findings from a small-scale time-use survey conducted by ARDD in April 2021 that address how women in Jordan perform care work, how they feel about it, and their perspectives and recommendations on how the burden of care work can be redistributed through social protection mechanisms and other policies.