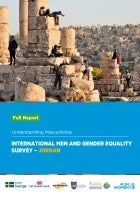 The study surveyed 2,400 Jordanian men and women aged 18-59, from 12 governorates across Jordan, as well as 512 Syrian men and women living in Amman, Zarqa, Irbid and Mafraq. The research also includes a qualitative component that involved 110 men and women who participated in 12 focus group discussions and 17 in-depth interviews.
This assessment developed by UNW, UNHCR, WFP and UNICEF demonstrate gender inequalities across the Syrian refugee population, limiting access, rights and opportunities for women and girls, particularly as related to economic participation, education, food insecurity, humanitarian assistance, legal issues, and wider protections, including sexual and gender-based violence.
Given the unique vulnerability of Syrian refugee women to GBV and specific linkages to economic vulnerability, UN Women together with UNHCR and the ILO commissioned a study to explore the (relationships between livelihoods and protection risks for Syrian refugee women, with specific aim to ensure programming is designed to mitigate risks and maximize positive outcomes.