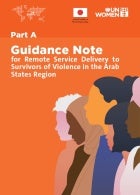 This toolkit is designed to support women-led civil society organisations (CSOs) in the Arab States region to strengthen their capacity to deliver remote services to survivors of violence against women and girls (VAWG).
Ce Policy Brief met l'accent sur les différentes formes d'impact de la COVID-19 sur la santé des femmes en Tunisie. Durant la première période de l'épidémie, de nombreuses prestations sanitaires ont été reportées tandis que le personnel hospitalier se consacrait à la préparation des services de santé pour s'attaquer à la COVID-19.
This brief explores the implications for the provision of essential services for women and girls who have experienced violence during the COVID-19 pandemic. It provides recommendations for governments, civil society, and international organizations that are seeking to improve the quality of and access to coordinated health, police and justice, and social services for all women and girls during the crisis and provides examples of promising practices to date.