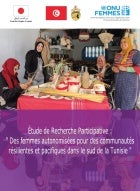 L'étude de recherche participative vient répondre aux questions suivantes: Quels sont les besoins des femmes et des jeunes filles au sud Tunisien? Quel est leur rôle dans la cohésion sociale et quelles sont les opportunités économiques pour elles? Elle vient proposer des pistes de solutions pour renforcer l'autonomisation des femmes et leur potentiel de résilience et leur rôle dans la cohésion sociale pour la prévention de l'extrémisme violent.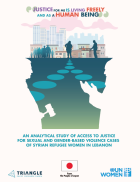 The aim of the study is to understand the pathways that Syrian refugee women utilise to access justice for SGBV cases in Lebanon, both in the state legal and judicial system (formal) and within community-based mechanisms (informal).
Qualitative studies about the women in the region and their success stories. The stories you are about to read are live testaments to the fact that indeed those are difficult times but they are also full of opportunities that generate in us the continuous commitment to the work we are doing, and to the struggle we so fondly take on.