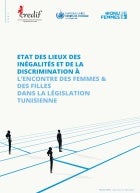 Le Bureau du Haut-Commissariat des Nations Unies aux Droits de l'Homme en Tunisie, l'ONU Femmes Tunisie et le Centre de recherche, d'études, de Documentation et d'Information sur la Femme(CREDIF) ont conjointement réalisé une étude relative à l'état des lieux des inégalités et de la discrimination à l'encontre des femmes et des filles dans la législation tunisienne en en 2016 puis mise à jour en 2021.
This rapid assessment examines how the impacts of COVID-19 are threatening women's ability to access justice. The assessment reflects challenges faced by women and girls of diverse backgrounds and socio-economic groups, including those experiencing overlapping disadvantages and those facing amplified challenges in humanitarian settings. Cross-regional and local experiences are highlighted, and quantitative data is utilized where available.
Across every sphere, from health to the economy, security to social protection, the impacts of COVID-19 are exacerbated for women and girls simply by virtue of their sex. This policy brief explores how women and girls' lives are changing in the face of COVID-19, and outlines suggested priority measures to accompany both the immediate response and longer-term recovery efforts.