This study and brief aim at providing insights on how gender and other intersecting inequalities impact the risk and vulnerability to HIV for women and girls in Africa.
This brief highlights emerging trends and impacts of COVID-19 on online and ICT-facilitated violence against women and girls (VAWG). It provides examples of strategies put in place to prevent and respond to online/ICT-facilitated VAWG and makes recommendations on how different actors can best address this issue. It is a living document that draws upon the knowledge and experience of a wide range of experts.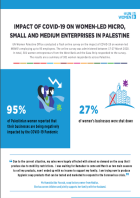 Amidst the COVID-19 pandemic, UN Women Palestine Office conducted a flash online survey on the impact of COVID-19 on women-led MSME's employing up to 95 employees. The online survey was administered between 17-27 March 2020. In total, 301 women entrepreneurs from the West Bank and Gaza responded to the survey. The infographic report shows a summary of 301 women respondents across Palestine.