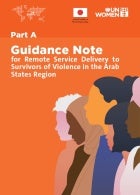 This toolkit is designed to support women-led civil society organisations (CSOs) in the Arab States region to strengthen their capacity to deliver remote services to survivors of violence against women and girls (VAWG).
The analysis included in this report builds upon data collected through the LEAP project and sought to provide evidence around key resilience issues.
This brief highlights emerging trends and impacts of COVID-19 on online and ICT-facilitated violence against women and girls (VAWG). It provides examples of strategies put in place to prevent and respond to online/ICT-facilitated VAWG and makes recommendations on how different actors can best address this issue. It is a living document that draws upon the knowledge and experience of a wide range of experts.