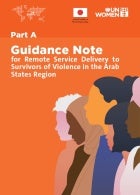 This toolkit is designed to support women-led civil society organisations (CSOs) in the Arab States region to strengthen their capacity to deliver remote services to survivors of violence against women and girls (VAWG).
This newsletter captures the latest updates on the implementation of the Women's Peace and Humanitarian Fund (WPHF) in Lebanon. The newsletter includes the key highlights and achievements of the WPHF programme partners' towards enhancing women's participation in the Beirut Port Explosion's response and recovery process.
Ce Policy Brief met l'accent sur les différentes formes d'impact de la COVID-19 sur la santé des femmes en Tunisie. Durant la première période de l'épidémie, de nombreuses prestations sanitaires ont été reportées tandis que le personnel hospitalier se consacrait à la préparation des services de santé pour s'attaquer à la COVID-19.