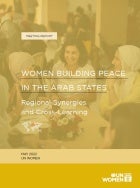 In May 2022, the UN Women Regional Office for Arab States and the Government of Finland organized a two-day workshop titled "Women Building Peace in the Arab States: Regional Synergies and Cross-Learning" to highlight women's mediation efforts in their communities and the lessons learned from interventions under the regional WPS programme and the Syria WPS programme.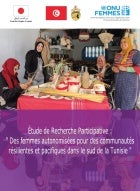 L'étude de recherche participative vient répondre aux questions suivantes: Quels sont les besoins des femmes et des jeunes filles au sud Tunisien? Quel est leur rôle dans la cohésion sociale et quelles sont les opportunités économiques pour elles? Elle vient proposer des pistes de solutions pour renforcer l'autonomisation des femmes et leur potentiel de résilience et leur rôle dans la cohésion sociale pour la prévention de l'extrémisme violent.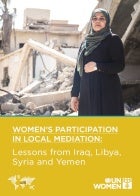 UN Women's new report "Women's Participation in Local Mediation: Lessons from Iraq, Libya, Syria, Yemen" sheds light on the diverse mediation roles women have played to resolve conflict and restore social cohesion in their communities.